Minister of State, Joseph Harmon, on Friday received a courtesy call from Spanish Secretary of State for International Cooperation and Latin America, Fernando Garcia-Casas, and Ambassador of Spain to Guyana, Javier Maria Carbajosa Sanchez.
During their brief discussions, Spain's role in holding the European Union (EU)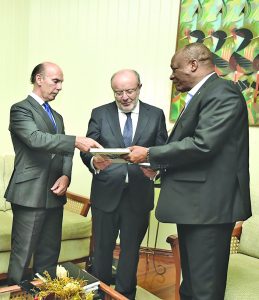 together was recognised by Minister Harmon, who said that a strong EU would better serve the interests of the people of the Caribbean region, and more particularly Guyana.
Garcia-Casas expressed his country's interest in fostering further collaboration with Guyana in the areas of trade and investment, and added that Spain is looking to explore new areas of cooperation, including in the areas of eco-tourism, infrastructural development, agriculture, and energy generation by offering expertise and developing projects.
The Guyanese Minister of State and the Spanish Secretary of State for International Cooperation committed the two countries to regular consultations. Minister Harmon also reaffirmed the Government's commitment to strengthening bilateral relations with Spain, and expressed confidence that efforts to strengthen and develop areas of collaboration will be actualised.
The governments of Guyana and Spain established diplomatic relations on October 12, 1979, and collaborate primarily in the areas of culture and oil exploration.