A mental health awareness workshop was conducted by The Caribbean Voice (TCV) organisation on Saturday at the office of Guyana Times/TVG/Radio Guyana, Industrial Site, Ruimveldt. Employees from the companies were the beneficiaries of the comprehensive forum.
The workshop was in accordance with the mandate of the Non-Governmental Organisation (NGO), which is to spread awareness on mental health and illnesses as well as matters relating to suicide.
Leslyn Holder, a member of TCV and a teacher by profession, explained that
"Guyana is notorious for suicidal behaviour and it is important that we step forward as Guyanese to share whatever information we (TCV) have with the public". As such, she pointed out, "Our aim is awareness. It is important that in Guyana we raise awareness of mental health and mental illnesses and suicide prevention."
During the workshop, the participants were exposed to statistics relating to suicide, a clear definition of the social ill as well as suicide first aid to detect and prevent mental illness and suicidal tendencies.
Moreover, the staff of the local media conglomerate benefited from an emphatic communication session conducted by specialist Ibina Edwards. Edwards highlighted, "The role of emphatic communication is very important not only as an individual, but one of the reasons why it is necessary in an organisation; it is so that persons can put themselves in a place of someone else."
She went on to say, "often times, you find that we judge someone without fully understanding."
The specialist noted that with the racial barriers existing in Guyana, it becomes difficult to understand each other without being able to respect and appreciate the differences. This is where emphatic communication plays an integral role in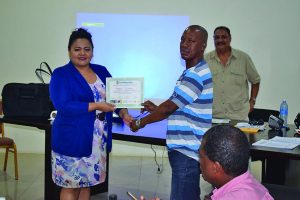 bridging the gaps and increasing understanding within diverse societies.
TCV National Coordinating Director Nazim Hussain indicated that the NGO has been in existence for almost three years in Guyana and has been active in the fight against suicide and mental illnesses. He pointed out that they have completed similar sessions with schools across the country, with ongoing sessions still to be completed. They have also embarked on a "Training of Trainers" initiative in Essequibo and Berbice so as to build an army in their fight against these social ills. The building of self-awareness and self-esteem are the strategies generally adopted in their suicide prevention mission.
TCV is a not-for-profit organisation that continues to thrive and accomplish successes through the service of its dedicated volunteers. It is urging persons who may be in need of its special services to reach out to the membership, and is also open to the contribution of businesses in aiding in the realisation of its goals and objectives.