…Antiguan PM to visit Guyana; barriers to trade, investments on the agenda
The Guyana Government has signalled intentions to collaborate with its Guatemalan counterpart – the second-largest sugar producer in Latin America, on fortifying the country's sugar industry to benefit the wider region.
This came on the heels of the IV Summit of the Heads of State of the Caricom-Central American Integration System (SICA) held in Belize last week.
In a previous statement, it had been announced that President Irfaan Ali had met with Guatemalan President Alejandro Giammattei, to discuss shared issues of trade, investment, and climate change.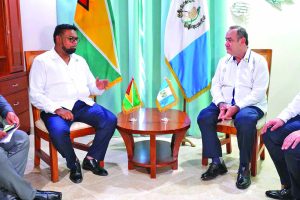 Dr Ali, at a press conference on Sunday, announced that an exchange visit was in the pipeline between the two countries.
It was also revealed that the two Presidents had agreed on the importance of a strong partnership in agriculture, particularly in assisting Guyana to revitalise the sugar industry. There had also been mention of a Memorandum of Understanding (MoU) between the two countries being concluded in the near future.
Speaking on the value Guatemala can add to Guyana's agricultural push, President Ali pointed out on Sunday that agriculture constitutes 23 per cent of Guatemala's Gross Domestic Product (GDP), 75 per cent of export earnings and 50 per cent of its labour force.
"You have 11 sugar mills, the cultivation area is 251,000 hectares and the yield is 10.7 metric tonnes per hectare. In Guyana, we have in total land available about 49,000 hectares for sugar and our yield is between four to five tonnes per hectare. I'm just giving you the percentage, so you can understand the potential powerhouse we can collaborate with," he said.
According to Ali, these are some of the areas that they have been able to expedite discussions on. Additionally, President Ali explained that Government was in talks with Guatemala and Honduras, on other agricultural sectors like coffee production and the palm oil industry.
"And we're not only talking about technical support. We're talking about the twinning of opportunities. In the corporate world, you don't reinvent the wheel. You look at best practices and you twin it.
"So, we are going to look at the best practices in Guatemala and Guyana and twin our operations, from the management side to the operational to the investment side. But most importantly, the end result of this is sustainability, job creation, economic expansion, and viability of the industry. That is the main output that we're looking at."
Meanwhile, Antiguan Prime Minister Gaston Browne is expected to visit Guyana, with an agenda set to discuss the removal of barriers in trade and to advance talks on potential partnerships between the two nations.
The Head of State also made this announcement on Sunday during which he stated that the visit would materialise "very soon". While he could not name a specific date, President Ali did give some insight into what would be the areas of mutual interest on the agenda.
"Food security, climate change, and removal of barriers are some of the matters on the agenda. We're building a food terminal in Barbados – the Guyana-Barbados Food Terminal. We're also working on the building of the gold market that is outside of the cruise liners so that we can revitalise that skill in Guyana and bring Barbados into it. The same thing Antigua is also interested in," he explained.
"I don't want to get ahead of it until the Prime Minister and I agree that this is the agenda, but I can tell you those are the matters that we've already started to discuss on the agenda," the President further told media operatives during the press conference.
In July of last year, the Antigua and Barbuda Prime Minister had assumed the chairmanship of the Conference of Heads of Government of Caricom, succeeding Trinidad and Tobago Prime Minister, Dr Keith Rowley.
During his stint, he chaired the virtually-held 42nd Meeting of the Conference of Heads of Government. Browne, along with President Ali, also participated in the recent 33rd Inter-Sessional Meeting of the Conference of Heads of Government of Caricom in Belize. (Jarryl Bryan)