As Guyana observes the 25th death anniversary of founder and leader of the People's Progressive Party, Dr Cheddi Jagan, the Party's Executive Secretary, Zulfikar Mustapha called on all Guyanese to use his teachings as an inspiration to continue developing Guyana.
The late Dr Cheddi Jagan died on March 6, 1997.
In observance of his death, on Sunday, a wreath-laying ceremony was held at the monument site at Babu Jaan, Corentyne, Region Six – the site where he was cremated.
Several senior members of the Party and representatives from various organisations were present to pay their respects.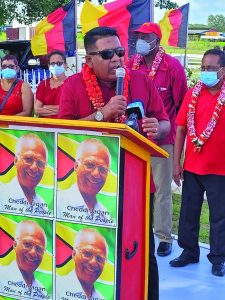 Addressing the small gathering, Mustapha related that it was an important day not just for the PPP but for all Guyana.
"We are marking 25 years since the father of the nation and founder of the People's Progressive Party and the first elected executive President of our country passed away," he said.
He pointed out that Guyana was robbed of a person who made a valuable contribution to the development of the nation.
"As fate would have had it, it only allowed him four years as the President of our country. Because of undemocratic and rigged elections, he was prevented from being the President of our country, or else he would have been the longest-serving President of our country if we did not have rigged elections."
Dr Jagan (March 22, 1918 – March 6, 1997) was a dentist who was first elected Chief Minister in 1953, and later Premier of British Guiana from 1961 to 1964. He later served as President of Guyana from 1992 to his death in 1997. Dr Jagan is widely regarded in Guyana as the father of the nation.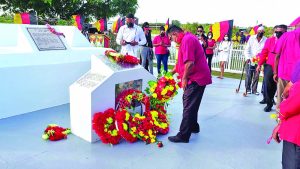 According to Mustapha, his teaching and ideas are still relevant today.
"I know quite recently as the people of Guyana were confronted by a Government who wanted to steal the country. As dedicated sons and daughters of the People's Progressive Party, being led by a person who would have come through the ranks of the various organisations, we were able to ensure that democracy was upheld in our country," Mustapha noted.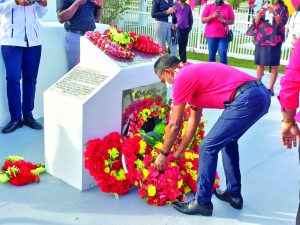 He referred to the late President as being a global leader.
"When things around the world were changing, he came up with the New Global Human Order. An order that countries around the world must implement to ensure that they take their people out of poverty and suffering," Mustapha said in giving a sample of Dr Jagan's contribution towards improving living conditions worldwide.
"His teaching will be relevant until eternity."
Mustapha further told the gathering that Guyana took the spotlight at the recently-concluded Caricom Heads of Government Conference where President Dr Irfaan Ali represented with pride and dignity.
"His presentation was based on some of the teachings of Dr Jagan."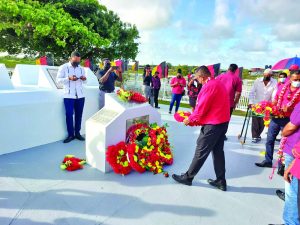 "Our emphasis is on food production and job creation investments. Our land must not only be a beautiful landscape but also the land must feed us. We are spending more on drainage and irrigation to enable us to put every inch of our cultivatable land under the plough. We have a market for food production, especially our grains like rice," Mustafa said as he quoted some of Dr Jagan's writings.
The Party's senior official told the gathering that the current Administration has added to those guidelines given by Dr Jagan decades ago and has added other grains – corn and soya.
"So, you can see that the teachings and ideas of Dr Jagan are relevant today and we as a Party. we will ensure at all times that we uphold and use those ideas and teachings as a guide…."
He referred to the late President as the greatest person to ever walk the shores of Guyana.
"On this occasion of his 25th death anniversary, let us use this as an inspiration to rededicate our energies so that we can put our shoulders to the wheel for continued development of our country," he said.
Also making remarks at the event were PPP Central Committee Member Hydar Ally and Region Six Chairman David Armogan. (Andrew Carmichael)