– as Int'l operators exploring 3 large-scale gold mines
Guyana's gold industry will be significantly boosted with the potential establishment of three large-scale operations here, following interest currently being expressed by major international players.
According to Senior Minister with responsibility for Finance Dr Ashni Singh, these developments would create scores of job and business opportunities for Guyanese.
Dr Singh made this announcement on Thursday while addressing the Annual General Meeting of the Private Sector Commission (PSC) which is also celebrating 30 years since its establishment.
Dr Singh noted that these promising gold developments would all be bigger than Omai's operations in Guyana.
"Right now, multiple international companies are actively engaged in – at various stages of development of world class, large-scale gold mining operations in at least three very promising developments across Guyana that could see gold mines, each of which will be bigger than Omai Gold Mines… These are international investors. Some of them are quoted on the international stock exchange; stock exchanges around the world. They are raising capital in the international markets, all to finance large scale gold mining in Guyana," he posited.
Reminding of the significant role that Omai's operations played in Guyana's economy, Minister Singh stated these potential gold mines would have a ripple effect on the country thus bringing benefits to scores of Guyanese.
"Consider for a moment that each one of these will probably be employing more than a thousand Guyanese persons. Considered the food and other supplies that they will need; the transport services, the constructions services, the equipment supply and maintenance services, and all of the multiplier benefits that three large scale gold mining operations will generate in Guyana," the Finance Minister pointed out.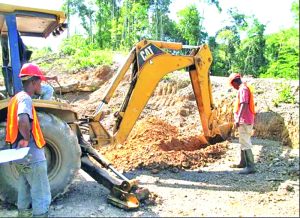 The Canada-based Omai Gold Mines is currently the largest operator in Guyana with its Region Seven (Cuyuni-Mazaruni) operations, which has a reserve of some 3.7 million ounces of gold.
OGM, which has already started a 5000-metre drilling programme in the Wenot pit, had announced in April 2021 the presence of high-grade gold in the first two holes that extend at least 100 metres below ground.
The company only returned to the Wenot and Fennell pits at the Region Seven site in 2020 after leaving Guyana in 2015. It had announced last December that it would be pressing forward with the 5000-metre drilling programme.
It was only in November 2020 that Omai Gold Mines, which is aiming to reclaim its place as Guyana's top gold producer, announced the impending resumption of trading on the Toronto Stock Exchange, following the recent reverse takeover of Avalon Investment Holdings.
Manganese export
Meanwhile, Dr Singh also noted that the interest by these major international investors runs alongside the Dr Irfaan Ali-led People's Progressive Party/Civic (PPP/C) Government's push to advance non-oil sectors in Guyana's rapidly growing economy.
He outlined too that while the oil and gas industry, and the commencement of oil production, have a major role in Guyana becoming one of the fastest-growing economies in the world, the government is even more committed now to order to further diversifying the Guyanese economy. This, he added, includes special emphasis being placed on non-oil extractive sectors such as gold and other minerals.
In fact, Minister Singh further disclosed that Guyana is currently preparing to export manganese – a hard, brittle, silvery, metal often found in minerals in combination with iron – for the first time in over five decades.
"Guyana, I believe this very week, will resume exports of manganese for the first time in… 54 years. Right now, as we speak, vessels are being loaded in the North-West of Guyana with Guyana's first shipment of manganese in 54 years," Dr Singh related.
The Guyana Manganese Incorporated (GMI), a Bosai Mineral Group company, started extracting the mineral early last year at Matthews Ridge, Region One (Barima-Waini) after being granted its Environmental Permit and Mining Licence, along with the approval of the Mine Plan.
The project investment is pegged at US$75 million, and the annual production and shipment of manganese ore concentrate are targeted at 500,000 metric tonnes annually.
GMI purchased four prospecting licences that cover an area of 45,729 acres, exploration results, mineral agreement, certain properties and infrastructure from RMI of Canada in November 2016.
The total manganese resource in Matthew's Ridge is some 26 million tonnes. To produce the manganese concentrate, the company will have to mine some 2 million tonnes per year which will see the life of the operation lasting some 12-13 years.
Manganese is used to make clear glass, desulfurise and deoxidise steel in steel production and reduce the octane rating in gasoline. It also is used as a black-brown pigment in paint and as a filler in dry cell batteries. Additionally, its alloys help stiffen the aluminium in soft-drink cans.