Guyana and the United States have strengthened networks to clamp down on financial crimes with the historic signing of the Foreign Account Tax Compliant Act (FATCA) agreement.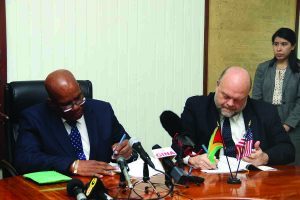 Finance Minister Winston Jordan and US Ambassador Perry Holloway officially signed the agreement on Monday in the boardroom of the Finance Ministry.
FATCA is a 2010 US federal law that American citizens (including those living outside the US) file yearly reports on their non-US financial accounts to the Financial Crimes Enforcement Network.
This network collects and analyses information about financial transactions in order to combat domestic and international money laundering, terrorist financing and other financial crimes.
US Ambassador Holloway explained that this information exchange process would create a stronger and more stable global financial system.
The Finance Minister emphasised that the signing of this agreement was the beginning of a new phase in Guyana-US cooperation on tax and anti-money laundering matters.
He noted too that Guyana has already undertaken a number of measures to improve domestic legislation to support this agreement.
Meanwhile, Guyana Revenue Authority (GRA) Commissioner General Godfrey Statia explained that in the past, the tax body has been using the incorrect procedure to access account information on Guyanese in the USA.
"There was the incorrect procedure being used whereby we were not sending it (requests) to the IRS (Inland Revenue Service). We were sending it to the (financial) institutions," he explained, noting that the GRA has no jurisdiction over those external institutions. (Devina Samaroo)