…during Secretary of State Mike Pompeo's historic visit today
…Guyana's interest to be represented – Vice President
The Guyana Government will be signing a maritime patrol agreement with the United States to guard against narcotics and other regional security threats.
This will be done during the high-profile visit of US Secretary of State Mike Pompeo, who is expected to arrive in Georgetown on Thursday, September 17. His visit will focus on the United States' commitment to defend democracy and combat COVID-19, while revitalising economies in the pandemic's wake, and strengthen security against regional threats.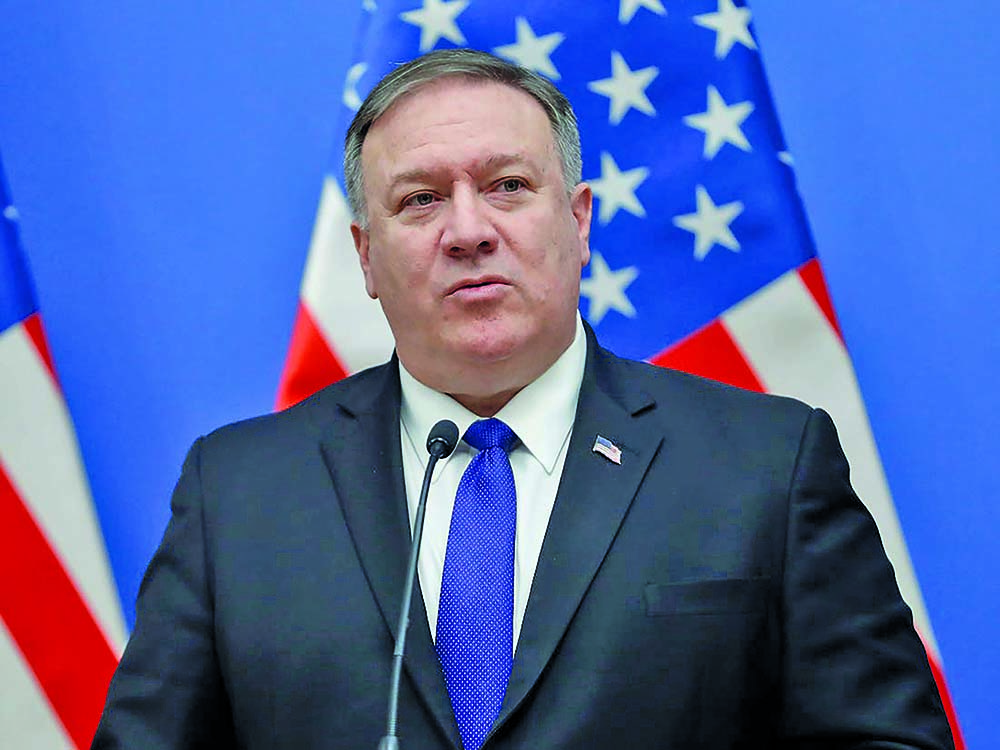 Pompeo will first travel to Suriname today, before coming to Guyana. He will then depart on Friday for Boa Vista, Brazil, and then to Colombia, before flying back to the US and end his tour in Texas.
Upon his arrival in Georgetown later today, he will be meeting with newly elected President Dr Irfaan Ali. On Friday, the US Secretary of State will meet with Foreign Affairs Minister Hugh Todd, and with CARICOM Secretary-General Ambassador Irwin LaRocque to discuss US-Caribbean issues.
During a briefing ahead of Pompeo's arrival today, a Senior US State Department official disclosed on Wednesday that Guyana and the US will exchange diplomatic notes on joint maritime patrols to interdict narcotics.
"In Guyana, for example, we're going to do an MOU (Memorandum of Understanding) on joint maritime patrols which are getting at interdiction of drugs and drug traffickers that are causing security problems for them," he stated.
According to the official, this step would not only provide security for Guyanese, but US citizens as well.
The signing of this pact for maritime patrol comes on the heels of increasing attacks from Venezuela across the border in riverine areas. Only recently, several officers attached to the Guyana Geology and Mines Commission (GGMC) came under fire while conducting inspection along the Cuyuni River. It is suspected that the shots were fired from the notorious syndicato gang from Venezuela.
In fact, Regional Commander Dion Moore had explained that such incidents have been occurring for some time now. Fortunately, no one has ever been injured to date.
Venezuela has been experiencing deep financial, economic and social crises for several years now, and has seen millions of its citizens fleeing the country. In fact, Guyana has taken in thousands of Venezuelan migrants.
However, the State Department official pointed out that in addition to widespread migration, Venezuela is also producing security threats to its neighbours by harbouring narcotics traffickers and illegally trafficking arms, gold and drugs.
Nevertheless, during Secretary Pompeo's high-level visit to the region, he will discuss the impact the situation in the Spanish-speaking country has had on Guyana and other neighbouring countries, including Suriname, Brazil and Colombia.
"We also want to talk about what can we all do collectively to reinvigorate the effort to bring that crisis to a satisfactory close, where you don't just have that gaping sore generating more and more either physical security problems, like narco-traffickers and terrorists, or the soft security problem of just having hundreds of thousands; or, in the case of Colombia, a million-plus people coming in and becoming dependent on your social services and so on," he stated.
The US State Department official further explained that they are reaching out to these countries because of their generosity in accepting Venezuelans. But in the same breath, he noted that this is not something you should just count on endlessly.
In fact, Secretary Pompeo will also discuss the impact the crisis in Venezuela, which is the hemisphere's largest refugee and humanitarian crisis, has had on Guyana with the authorities here.
Also on the agenda for the two-day visit is the signing of a 'Growth in the Americas' MOU, which will permit Guyana to improve its investment-enabling environment so that the country can benefit from transparent infrastructure investment that respects its sovereignty.
Guyana's interests
Meanwhile, the Foreign Affairs Ministry in Georgetown on Wednesday said the US Secretary of State's visit here is reflective of the North American country's confidence in President Ali's administration.
Secretary Pompeo's advance team has arrived in the country and has held talks with authorities here on the high-profile visit.
In addition to Government officials, Secretary Pompeo is also expected to meet with the oil companies operating in Guyana.
There has been no mention of a potential meeting with the Parliamentary Opposition APNU/AFC.
In fact, the Coalition has tabled a number of questions on Pompeo's visit in the National Assembly, but they were disallowed by House Speaker Manzoor Nadir.
Opposition Leader Joseph Harmon wants the PPP/C Government to detail the agenda for the US official's visit, and to give assurance that national interests of Guyanese will not be compromised.
In response, however, Vice President Bharrat Jagdeo dismissed Harmon's demands, stating that it is not customary for any Head of State to disclose a full agenda of a meeting with any foreign officials.
Nevertheless, Jagdeo went on to assure that the PPP/C Government will defend Guyana's interests and those of its people, not just during Pompeo's visit, but with any other foreign engagements.
Currently, Guyana has approached the International Court of Justice (ICJ) for a final and binding resolution to Venezuela's decades-long claim to more than two-thirds of Guyana's landmass in the Essequibo region, which contains much of Guyana's natural resources, and a portion of its exclusive economic zone (EEZ), in which more than eight billion barrels of oil have been discovered.
"We don't trifle with our borders, that is not a political issue. We don't compromise national interests on the borders. We've always, even in the most contentious period, extended support to the APNU Government on the border issue…So you can be assured that we will never do anything that will compromise Guyana's sovereignty and territorial integrity. Never!" Jagdeo, a former President, said in an interview on Wednesday.
Moreover, the Vice President believes that these recent actions by the APNU/AFC may be because the Coalition is still peeved with the stance of U.S. Government and Secretary Pompeo during the post elections period, when Guyana was embroiled in a five-month electoral and political impasse.
Pompeo had played a prominent role in pushing for democracy in Guyana during that tumultuous period. In fact, he had announced visa restrictions back in July against Guyanese officials responsible for undermining democracy here.
Despite a national recount showing that the PPP/C had won the elections by over 15,000 votes, the APNU/AFC Coalition refused to leave office, and filed a series of litigations to block an official declaration by the Guyana Elections Commission.
During his meeting with the CARICOM Secretary-General, Pompeo is expected to express appreciation to the regional body for its essential role in supporting Guyana's democratic process during that time.
CARICOM had fielded a team of scrutineers to monitor the recount exercise.
According to the Senior State Department official during Wednesday's briefing, it is expected now that the newly elected Guyanese leaders "build an inclusive democracy that consolidates rule of law, attracts transparent private sector investment, and exploits natural resources for the benefit of all of its citizens." (G8)