Emerging oil industry
Although Guyana is set to begin producing commercial quantities of oil in 2020, the Opposition believes Government is placing too much of its focus on that emerging sector and forgetting about the other productive sectors in the local economy that continue to provides hundreds of jobs to Guyanese.
Opposition Leader Bharrat Jagdeo is of the firm belief that if this trend continues, Guyana's future will be squandered.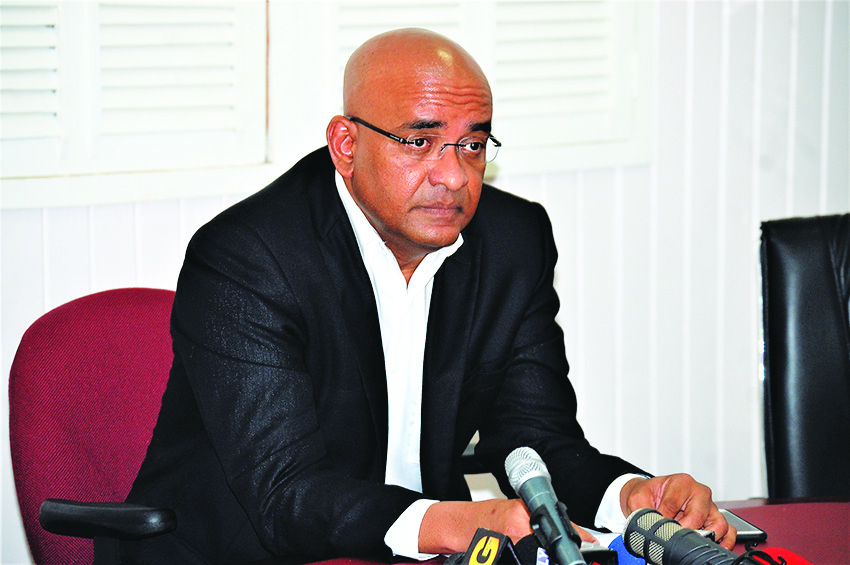 "I am always hopeful that we would make a lot of money from the oil and gas industry. I said that in Parliament but I cannot think about a serious Government that will risk our entire future on the hope of an industry that is so volatile," he remarked.
Jagdeo said that this is main reason why he has referred to Government as having a "banana republic" mentality, where heavy focus is placed on one single sector, neglecting all of the industries, similarly to what happened in Central America, where the term was coined.
"Trotman should be ashamed of himself. He is only looking good because he has two sectors that were left by the People's Progressive Party (the oil sector and the two new big gold mines). He got a gift more than most of the Ministers to look good and he is still screwing it up. So my point is that this is what they are doing," he added.
According to Jagdeo, who is a trained economist, oil prices can move for various reasons and while major oil companies like ExxonMobil may have a better forecast about the future, nobody knows for certain what the price would be like in 2020 and if Guyana will benefit abundantly.
The former Head of State explained that oil prices move in what he described as "short-term" and is not necessarily dependent on supply and demand. As a matter of fact, he said the market is fickle.
"If its US$300 we can move faster but at US$50 we still have to move forward, because if we neglect the reasons for moving forward at US$50 per barrel with the hope that we are going to spend at US$300 barrel, then we are misleading people. And that's what I'm trying to get a sense of realism."
The Opposition Leader pointed to other experiences in the world, stating that even the largest producers of oil are facing tough times, while making reference to neighbouring Trinidad and Tobago. That island country is currently experiencing a financial crisis due to the collapse of the global oil and gas market.
While he was not prepared to give an estimate of what the prices of oil could possibly be in 2020, Jagdeo said he would approach the issue twofold. He said that resources from the oil and gas sector should not be included in the performance of other sectors of the economy.
"Most countries don't do this. They don't separate national statistics and so when oil is ascending the other sectors tend to decline because of what I explained with the changes in relative prices. You will have every time, a decline in the non-oil sector and it is reported in the accounts that come to the National Assembly, and people will question it," he said.
The Opposition Leader also emphasised the need for focus to be placed on labour intensive sectors such as mining, rice and sugar so that they continue to operate and be buoyant.
"The oil investment will bring in a few hundred jobs and every year we graduate tens of thousands of students from university, but we have to take a dual approach. But the way they (Government) are talking about oil, everything is surrounding this."
Guyana is all set to join the ranks of the world's major oil-based economies, as ExxonMobil charges forward on a project to capitalise on the largest oil find in over a decade.
ExxonMobil had discovered a massive oil field measuring about 6.6 million acres earlier this year, with reserves estimated up to two billion barrels. When production begins in 2020, some 120,000 barrels of oil will be produce per day.