Transparency Institute of Guyana Inc (TIGI) is putting the Government on blast for its sloth in bringing forward legislation to protect whistle-blowers.
The anti-corruption advocate also criticised the Government's actions against a particular whistle-blower – Nurse Sherilyn Marks – for revealing a People's National Congress Councillor's abuse of pain medication. Marks has been repaid by being transferred and subjected to a probe by the Public Service Commission (PSC).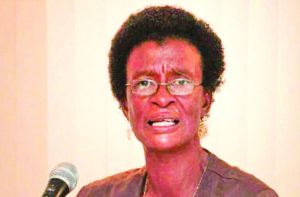 "In a very corrupt society and one in which the will of the people has been side-lined as politicians pursue narrow interests, whistle-blowing is an important avenue through which corruption can be uncovered," the group said in a statement.
"Unless whistle-blower legislation is ratified and supported by a will to implement, whistle-blowing will remain costly to whistle-blowers. It is not altogether surprising that the coalition Government appears to have lost its appetite for implementation though it had drafted an act and held consultations after taking office."
TIGI noted that such law is yet to be enacted. According to the group, a comparison with other laws the Government has pushed through within the two years of Government makes it easy to deduce the order of priorities.
"Without whistle-blower legislation, retaliation by the politically connected and the powerful can mean dire consequences for those who attempt to expose wrongdoing. Such retaliation can range from public labelling and ridiculing to loss of employment, other employment hardships and even worse."
Consequences may also extend beyond the person directly drawing awareness, to family, friends and loved ones, the TIGI said, adding that awareness of the potential for such retaliation can instil fear and serve as a warning to those who might contemplate exposing corruption.
TIGI referenced the case of Marks, who it noted was bludgeoned into oblivion or worse, "for exposing the abuse of power by [A Partnership for National Unity] APNU Councillor, Carol Joseph."
"In this case, Marks who was a nurse at the Fort Wellington Hospital revealed that Joseph, while a sitting APNU Councillor in the Local Government Council of Region Five, abused her power to leverage prescription painkiller injections."
This revelation by the nurse was made following two complaints to her superiors in Region Five and to the Public Health Minister.
"Marks was in a position where she considered herself exposed to eventually being held accountable for administering the prescription narcotic, Pethidine, more frequently and in a larger amount than usual to Joseph, but her cries for help went unanswered by her superiors at the level of the region and by the Minister of Health."
TIGI noted that the failure of the Public Health Ministry and the officials in the region to act was amplified and encouraged by the absence of a functional Integrity Commission to which Marks could have complained.
"Exposing the situation was the correct thing to do given that the system and the individuals in authority failed her. If all that the Ministry had done was ignore Marks, this would be better than that which has occurred and that which has been set in motion. Instead, it retaliated. Condoning retaliation against whistle-blowers is a backward step in the fight against corruption."
The first bit of retaliation was the transferring of Marks to another facility without her having requested it, the TIGI pointed out. It added that Marks' move to address the matter publicly after two attempts to urge the responsible officers to act appears to have embarrassed people of power who condoned Joseph's actions.
Calling the transfer a pathetic response, TIGI noted that the transfer was done without consideration of any hardships or other changes in Marks's circumstances. The group noted that the nurse was therefore treated like an expendable pawn for going public.
"The response is now being taken further to the stage of attempting to institute charges against Marks for breach of confidentiality. A disproportionate and public response has a long history of setting the stage for control and the message to be gleaned is that vicious retaliation by those with connections and power towards those who dare to expose wrongdoing is alive and well in Guyana."
The TIGI stated that it does not support breaking the law, however, when those who have abused their power and those who have ignored their responsibility as public officials do so with impunity while those who dare to expose wrongdoings are made to feel the consequence, it is mere lip service to the idea for those in authority to proclaim support for whistle-blowers.