… blame the local NDC, RDC for ignoring complaints
… counting millions in losses
By Shemuel Fanfair
Residents of several sections of Canal Number Two Polder, West Bank Demerara, are calling on the relevant authorities to immediately address prolonged flooding which is threatening their livelihoods. Farmers and residents in South Section, Canal Number Two, and other villages told Guyana Times on Saturday that they are incurring millions of dollars in losses due to constant flooding which was spurred on by intense heavy rainfall over the last five days.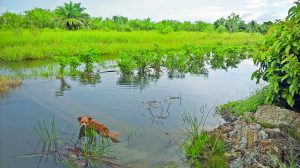 South Section farmer Dookie (only name) told this newspaper that some 200 of his pear crops which he planted 15 months ago are threatened. The crops are now starting to bear first fruit.
He also explained that it was only weeks ago that he invested around $1 million to excavate his drains in preparations for the heavy rainfall. However, the water level is so high that his peppers and pak choi were all inundated. Dookie explained that in the coming days, these crops will wither.
"Since Monday this water is at this height and only yesterday (Friday) afternoon they start to pull de canal; if they only pull before, it coulda help the pear," the farmer noted.
Similarly, farmer Mahendra Sugdeo observed that he incurred millions in losses as 15 acres of his crops were lost due to the flood waters. He told Guyana Times that farming is the only means of sustenance for him, his wife and their three children.
"We get this flood here because of the negligence of the trench not [being] cleaned. If the trench was cleaned, we wouldn't get this flood here. The water wouldda pull off and wouldn't be building up. I get over three million dollars in losses. I got pumpkin, cassava, sweet potato, banana, cucumber, bell yam; everything under water and everyday de water coming up higher and higher," Sugdeo noted.
He further explained that he had to bury one of his calves which was born a few days ago. Another farmer told this newspaper that he looks after his elderly parents who are both in their 70s.
Cash crop famer, Imran Baksh explained that it has been especially trying for many farmers in the area, who had planted sugar cane before operations ended at the nearby Wales Sugar Estate. He stated that he incurred over a million dollar in losses, noting that all his cabbage crops were damaged.
"De conservancy overtopping now you got black water come into de lands; 10 years this thing happening, now you gon wait to see what you could do in this rainy weather," Baksh pointed out.
Many of the farmers blamed the local Neighbourhood Democratic Council (NDC) and Regional Democratic Council (RDC) for ignoring their numerous complaints, suggesting that persons who are more knowledgeable about farming should be installed to Council positions in order to address their concerns. Guyana Times however understands that the flooding could have been avoided if the Tender Board had facilitated the contract being awarded for drainage works in the area.
This publication was informed that previously, a former large-scale sugar cane farmer was granted monthly contracts for clearing clogged drains over the years. However, this newspaper understands that changes in the tendering process awarded the contract to several contractors instead. It is this back-and-forth that many believe is responsible for the flooding.
Region Three (Essequibo Islands-West Demerara) Regional Chairman Julius Faerber, who was on site when this newspaper was in the community, said the major canal falls under the purview of National Drainage and Irrigation Authority (NDIA).
"It's a seven mile stretch and if the canal is not properly cleaned, the water will not be drained. A lot of farmers have lost their crops and lives stock and it is not easy for them to get back into operations. At the RDC level, we have been maintaining the internal drains are clear but if the main drain is not cleaned, we are still going to have that problem," Faerber stressed.
When this newspaper arrived in the area, workmen attached to the Toevlugt-Patenia Neighbourhood Democratic Council (NDC) were hurrying to clear several sections of the canal using cutlasses and a tractor to transport the weed. However several homes were already under water. Some residents had even placed sandbags to fend off the rising water levels but this proved futile. The farmers are calling on the Agriculture Ministry and other authorities to visit the area and look into their plight. They reported that they have not seen such water levels since the 2005 floods.