…more efforts to refine talents of local entrepreneurs
While addressing the gathering at the launch of the University of Guyana's School of Entrepreneurship and Business Innovation (SEBI) on Friday last, local entrepreneur, Captain Gerald Gouveia said the Private Sector currently existing in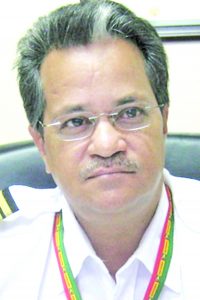 Guyana is one that is relatively new.
In his statement, the mastermind of several tourism and hospitality entities revisited Guyana's economic standings in the late 1900's and thereby pointed out the difference in the privately operated portions of the country when compared to what is happening now. It was on that note Gouveia highlighted the need for further efforts to refine the talents and approaches of local business owners, so as to capitalise on the market – both at home and abroad, while adequately catering for the country's human resources.
Captain Gouveia conveyed that, "A lot of us knew a time when 95 per cent of our economy was controlled by the State and then under (former President) Desmond Hoyte we saw a reversal of that and the Private Sector became alive again." As such, "our Private Sector today is actually a very new Private Sector," Gouveia said.
Adding to the already disproportionate balance between public and private management of the country, Gouveia went on to point out the undesirable conditions which plagued the Private Sector in the past years.
The pilot revisited an early moment in his career which led in him in the service of the late Forbes Burnham, during which he relayed the former President's visions of a more nurturing environment for businesses, and their proprietors, to thrive.
"They were faced with a Private Sector in Guyana with a bunch of entrepreneurs that were extremely unkind to their workers back in the 1950's. They were working for low salaries, in bad working conditions and long hours; women were not working for equal pay," Gouveia outlined.
He went on to say that, "I sat there and listened to him (Burnham) talk about a Guyana I did not recognise because I did not know it back then. But it was a Guyana we were all dreaming for, where never again do we have to face what they had to face… a Private Sector that was not kind to their workers."
With that, Gouveia welcomed the evolution which saw the emergence of a more balanced economy, presenting a conducive state for growth and success. However, even as the businessman celebrated the accomplishments of the "new Private Sector," he was inclined to indicate several aspects which are still lacking, even in present day.
"But in the (new) Private Sector, it needs education. It is a Private Sector that needs money. This is also a Private Sector that needs the Government to understand that for entrepreneurs to succeed, the enabling environment needs to be in place," he posited.
Moreover, Gouveia, while addressing a more individual approach to the development of the Guyanese Private Sector, indicated that entrepreneurs have a part to play in steering the success of the local economy. It was then that he posited that entrepreneurs must be passionate and primitive.
"The best entrepreneurs are hungry entrepreneurs… I believe that entrepreneurship is almost like a talent, you find some people who got it naturally but even people who are born with it still have a lot to learn." With that, he questioned, "How do you teach a carpenter to become a contractor? How do you teacher a lawyer to operate their own law firm?"
It was against that background that Gouveia laid out, "We have many famers but we don't have a lot of people who understand the business of farming.
Every afternoon I have a plane, a 767 that leaves here with 10 tons of empty belly space that can be taking fresh fruits and vegetables to New York to feed the New York market but our farmers haven't yet understood the requirements of the phytosanitary systems to meet those U.S. systems."
As such, he alluded to the establishment of a tertiary level school of business and entrepreneurship in Guyana as a bold step forward in addressing the several shortcomings such as policymaking, critical thinking, experimental learning and corporate social responsibility, all of which are objectives of SEBI.