–
and other diseases
Guyana's neighbour to the south, Brazil, has joined in the fight against the acute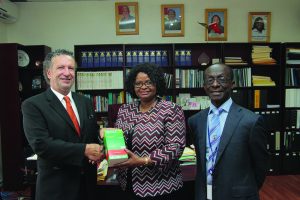 viral haemorrhagic disease Yellow Fever by donating vaccines.
The donation was made when its Ambassador to Guyana, Lineu Pupo de Paula paid a courtesy call on Public Health Minister Volda Lawrence on Tuesday.
Minister Lawrence accepted the gift, which she said will help meet the medical demands of this multicultural, English-speaking country.
The Brazilian envoy said his country, most famous for football, was also committed to helping Guyana in its fight against Yellow Fever. Drugs to counteract leishmaniasis, a parasitic diseases found in tropical and sub-tropical countries and southern Europe, were also donated.
Meanwhile, Pan American Health Organisation/World Health Organisation (PAHO/WHO) officials on Tuesday also announced support for several sub-sectors of Guyana's public health system according to a message relayed from PAHO Director, Dr Carissa Etienne, who visited Guyana earlier this year.
"We have instructions to help you," said Communicable Diseases and Health Analysis Department Director Marcos Espinal and Knowledge Management Health Information and Analysis Unit Senior Advisor Marcelo D'Agostino. They had also paid a courtesy call on Lawrence Tuesday.
Espinal and D'Agostino in the presence of the PAHO/WHO Representative here, Dr William Adu-Krow, said Guyana could expect technical and other support for its communicable diseases and vector control programmes; backing for its neglected diseases efforts and firm backing for its health information systems.