A man who allegedly killed the estranged husband of his fiancée appeared before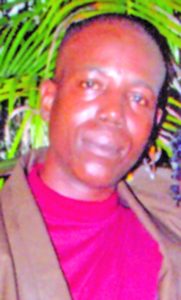 a High Court judge on Tuesday.
At his arraignment, murder accused Aniki Jones of Sophia, Greater Georgetown pleaded not guilty to the charge instituted for the chopping death of forklift operator Carl Garnett of Section B, Sophia. The killing occurred on December 15, 2013 at Lamaha Springs, Georgetown.
Police had said that the deceased man had called the Jones home to speak with the child that he shared with his estranged wife. However, Jones was said to have refused the man's request, which angered Garnett who then armed himself with a cutlass and confronted Jones at his home in Lamaha Springs.
An altercation ensued during which Garnett ended up dead with chop wounds. Jones, however, denies that he murdered the man. A jury was empanelled on Tuesday to hear the case, which is being presented by State Prosecutors Siand Dhurjon and Shawnette Austin. The trial continues before Justice Nareshwar Harnanan.