A philanthropic seventeen-year-old hailing from Queens, Cayla Kumar has accomplished more in her young life than many adults have – this includes being the founder of The Gold Ribbon Project and winner of Miss New York's Outstanding Teen 2018 (NYOT). This beauty is taking a shot at the Miss New York Teen USA 2020 crown and title. The Miss New York Teen USA competition is the pageant that selects the representative for the state of New York in the Miss Teen USA pageant.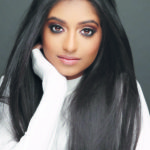 An aspiring paediatric oncologist, Cayla's passion for finding a cure stemmed from the loss of her great grandmother to breast cancer. With several years of schooling ahead of her, this high school senior has shown an unwavering commitment to her future career by volunteering countless hours to a variety of charities and hospitals hoping to put an end to paediatric cancer.
An eight-time honouree of the Presidential Volunteer Service Gold Award and a semi-finalist for the prestigious Prudential Spirit of Community Awards in 2019, Cayla has dedicated more than 5000 hours to her community. Most notably, Cayla was named the first official Youth Ambassador for the St Jude Children's Research Hospital as well as having attended Cure Fest in Washington, DC, lobbying Congress to provide additional funding for paediatric cancer research. In April of 2018, Cayla was recognised on the floor of the New York Senate for her efforts.
When Cayla is not advocating for The Gold Ribbon Project, she can be found in the classroom. She currently attends Archbishop Molloy High School on a full scholarship where, in addition to a challenging course load, she is a Peer Group Leader, Spirit Leader, and a member of the Broadcasting and Newspaper Club.
Her other interests include dancing; Cayla has trained for the past thirteen years in both classical and Bollywood styles of Indian dance as a student at both the Sadhanalaya School of Dance and Natraj Center. She is on her way to start training for her Rangapravesam, which will be her debut as a classical dancer. As a first-generation American, Cayla treasures the connection to her culture found while performing traditional Indian dances such as Bharatanatyam, Khatak, and Kuchipudi styles.