Ahead of the regional flagship event the CARIFTA Games, which will be staged in Kingston, Jamaica during the period April 16-19, the Guyana Olympic Association (GOA) on Wednesday afternoon dished out a total of $3.2M to the teams representing Guyana in athletics and swimming. The Athletics Association of Guyana (AAG) has received $2M, while the Guyana Amateur Swimming Association (GASA) has received $1.2M.
Both events will be staged this weekend, with track and field slated for April 16 to 18, while swimming is billed for April 16-19 in Barbados.
At a simple ceremony on Wednesday afternoon, GOA President K.A. Juman-Yassin expressed elation at being able to support these Associations which fall under his mandate, while he highlighted the work being done by the Associations.
Yassin shared, "The Guyana Olympic Association (GOA) is very happy and pleased to be able to assist several Associations."
Looking at the Associations individually, he said, "I know it has been an uphill task for Aubrey (Hutson) to be able to get the compete funding, but I believe with our contribution, it should go a very, very far way. And I want to wish them all the best.
"We are happy also to give a contribution of $1.2M to GASA. They are going also to the CARIFTA Games, and I want to wish them all the best," he added. "I could say that since President Dwayne (Scott) has taken over, GASA and the team has been going to several games."
On the receiving end of the GOA's generosity, AAG President Aubrey Hutson articulated the intention of his team to return with medals, while expressing gratitude to the GOA. "I must say thanks a lot to the Guyana Olympic Association (GOA) under the stewardship of Mr. Juman-Yassin, for his contribution to track and field; and we know we continue to represent Guyana every time we go out there," Hutson shared.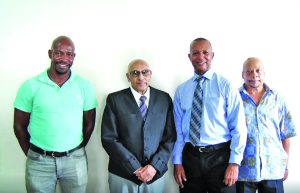 He added, "You know, we're one of the sports within the Olympic fraternity that continue to do well, and I think it is only fitting that they could continue to support us, so that we can make this nation look better and better."
The script was almost the same with GASA President Dwayne Scott, who spoke highly of the GOA's continuous support. Scott related, "I would like to share sincere appreciation to the Olympic Association. I mean, Mr. Yassin and team have always been supportive of our programme, and whenever we reach out to them, they've always been helpful in whatever way they can."
The GASA President added, "We're very much appreciative of the continuous support and drive that is shown towards our prospect for development."
Guyana's Track and Field CARIFTA team consists of 14 athletes and three officials, namely: Naris McPherson, Attoya Harvey, Keliza Smith, Karese Lloyd, Hannah Reid, Adriel Austin, Anisha Gibbons, Javon Roberts, Shamar Horatio, Ezekiel Newton, Wesley Tyndall, Gabriel Lim, Trevon Hamer and Stafon Roach. Coaches are Sham Johnny and Raymond Daw, and Team Manager is Nadine Trotz.
The Swimming team comprises of 10 athletes and three officials, namely: Mario Ramkhalawan, Vishal Babulal, Daniel Claxton, Ethan Gonsalves, Zara Crane, Nathan Jackson, Elliot Gonsalves, Shareefah Lewis, Marius Ramkhalawan, Amber DeGoeas, Sean Baksh and Shyka Gonsalves. Team Manager is Elkie Rodrigues.