This Easter weekend, a 2-year dream that Javon Roberts had before the Coronavirus pandemic hit in 2020 will be realised when he steps on to the track in Kingston, Jamaica for the 49th CARIFTA Games.
At the first CARIFTA trials held by the Athletics Association of Guyana (AAG) back in February, Roberts finished two seconds beyond the flat two-minute qualification mark set for the Under-17 800m race, clocking 2:02.65 on that occasion. However, the first-time qualifier for the regional games did not allow that shortcoming to deter him from his goal. In fact, the Running Brave Athletics Club (RBAC) member was unfazed, and returned two weeks later to cross the line in 1:59.53, qualifying for his first CARIFTA Games.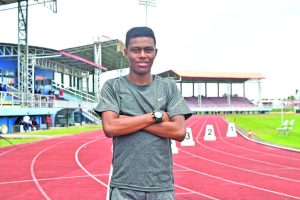 Overcome with emotion, Roberts expressed pride in his achievement. "At first I didn't know what was the time, then after my coach come and say, 'You did it!' and I was just so proud of myself," the teenager told Guyana Times Sport during a one-on-one interview.
He added, with a broad smile, "I'm very proud! Very happy! Excited! I trained so hard, so long, and every day I put in the work; just had to trust my coaches, and I finally got there."
The middle-distance athlete says he has been dreaming of representing Guyana at the CARIFTA Games since 2020, but had to postpone his goal owing to the Games' cancellation in 2020 and 2021.
"Since 2020! Of course, I was training then, but COVID come, kinda ruined it. I just had to focus; and then 2022, it finally happened," he related to this publication.
Once he gets to 'The Land of Wood and Water', the teenager's plan is pretty simple: focus, execution and medal for Guyana. "Just go out there and do like what I do every day: execute training, hope everything come together, and I could bring home the gold for my country," he answered when quizzed about his intentions for this weekend's regional tournament.
Roberts will be part of a 14-member contingent representing Guyana at the 49th edition of the CARIFTA Games in Kingston, Jamaica, from April 16-18.