The Georgetown Chamber of Commerce and Industry (GCCI) is presently preparing a delegation to head to what has been dubbed the largest international oil conference slated to be held between May 6 and 9, in Houston, Texas, United States.
The Chamber has secured the participation of seven local businesses but is seeking a larger group to make a statement while representing Guyana on the international stage.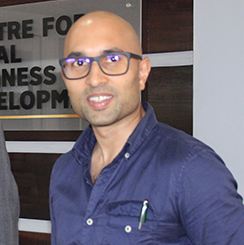 Vice President of GCCI, Nicholas Boyer told the media on Friday that the organisation is hoping for the participation of more local companies which are only required to be a member of the Chamber.
Boyer added that the conference is expected to see the participation of about 10,000 persons from the oil sector. According to him, the goal of the mission is to foster relations with other oil producing companies to benefit Guyana and its economy.
The Vice Chairman told the media that local businesses have shown interest in the oil sector, but the oil industry is coming with "a lot of standards" and new methods of business that Guyana is not used to.
In this regard, he pointed to the need for this gap to be bridged so that interested businesses can be transported to the other level or actually offering services.
He said, "It is through education not just by learning what this specific machinery do in the oil industry but the networking because one of the underrated ways of learning is networking and by networking these businesses have the interest and will learn a little bit more and a little bit more in terms of what they can do to reduce that barrier to entry to finally get across that hurdle to say hey I can now start selling a product, I can now start performing a service."
It was on this note that the GCCI bragged of the success from the previous trade mission it had to the city of Aberdeen in Scotland, United Kingdom.
The Vice President explained that the trip managed to meet the objectives and in fact, the two countries are likely to set up a memorandum of understanding (MoU).
In addition, he noted that a number of other companies have expressed interest in investing in Guyana and are likely to begin before year end.
The trade mission to Aberdeen was facilitated last November by the GCCI.