– Jagdeo slams Govt over "fraudulent" behaviour
Opposition Leader Bharrat Jagdeo made clear his intention that he does not plan to meet with President David Granger unless an election date is announced by him, while accusing the Government of engaging in fraudulent behaviour.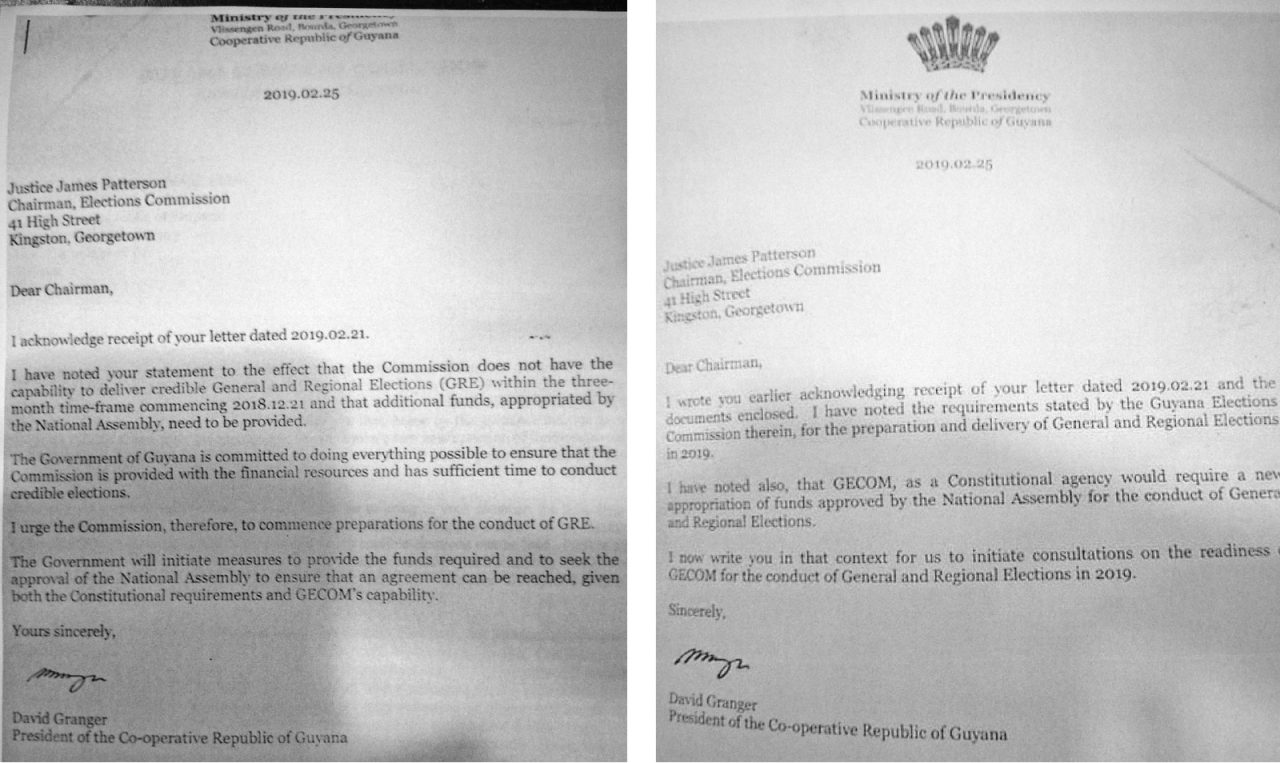 On Monday, Minister of State, Joseph Harmon had written Jagdeo and invited him to a meeting with the President on Wednesday, March 6, 2019 to discuss upcoming elections and funding of those elections, as well as to discuss the role of the National Assembly during this period.
Addressing his weekly press conference on Thursday, Jagdeo said that the two agenda items listed in the missive were issues covered by the Constitution and, therefore, he saw no need to be meeting on those issues, unless a date was set for an election.
"It is a waste of time to go there for another PR (public relations) opportunity where we shake hands and people believe 'oh, everything is going fine, we're in a normal situation'. Unless elections and the time and elections date are on the agenda, there'll be no meeting," he asserted.
Jagdeo noted that the Constitution provides for the role of the National Assembly and for the funding and gives the Guyana Elections Commission (GECOM) the discretion to use the funds that it has at its disposal which is a lump sum.
When questioned as to whether he thinks that he should attend the meeting in the interest of the country and its people, the Opposition Leader responded by saying that he will not accede to any act of bullyism and dictatorship. Rather, the Government should respect the Constitution.
"Moving this country forward can only be done in a context where we respect our Constitution and the laws of Guyana. It can't be done with impunity when one side believes they can violate every law, every ruling of the court and when the time comes, use patriotism," Jagdeo added.
He, however, said he would be writing to the Government to point out his issues, which he would like to be placed on the agenda for discussion.
Fraudulent behaviour
Meanwhile, Jagdeo is accusing the coalition Government of engaging in fraudulent behaviour, after it altered the letter instructing GECOM to prepare for national elections.
On Monday, February 25, President Granger dispatched a letter to GECOM Chairman, Retired Justice James Patterson, instructing that the Commission begin preparing for elections.
The letter read, "The Government of Guyana is committed to doing everything possible to ensure that the Commission is provided with the financial resources and has sufficient time to conduct credible elections. I urge the Commission, therefore, to commence preparations for the conduct of GRE [General and Regional Elections]."
It added, "The Government of Guyana will initiate measures to provide funds required and to seek the approval of the National Assembly to ensure that an agreement can be reached, given both the constitutional requirements and GECOM's capability."
However, an altered letter released by the Ministry of the Presidency to the public contradicts what was stated in the original correspondence.
The altered letter reads: "I have noted also, GECOM as a constitutional agency would require a new appropriation of funds approved by the National Assembly for the conduct of General and Regional Elections. I now write you in that context for us to initiate consultations on the readiness of GECOM for the conduct of General and Regional Elections in 2019."