The Guyana Cycling Federation will be hosting the annual three-stage cycle race on May 14 and May 15. This colourful and prestigious event, which is in its 39th year, commences at 7:30am on Saturday in the town of Corriverton, and proceeds to New Amsterdam for the finish in a distance of 40 miles.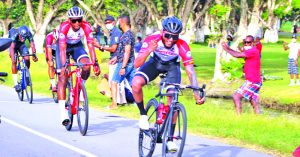 At 14:00hrs on the same day, the second stage commences at Rosignol village and proceeds to Carifesta Avenue in Georgetown for the finish in a total of 60 miles.
On Sunday May 15, riders will meet for the third and final stage from 7:30am.
The third stage starts in the town of Linden, and proceeds to Georgetown for the finish in a total of 65 miles. Presentation of prizes will be done at the conclusion of this stage.
This event encompasses the Elite, Open, Veterans, Juniors and Ladies categories. A five-man Suriname team will be competing in this event, while overseas-based riders Raynauth Jeffrey and Jamual John are expected to return home to participate in he action.
Last year, We Stand United cyclist Briton John clocked six hours, 56 minutes, and 57 seconds (6:56:57) across the three stages to take the event's overall title.
Jamual John placed second in a time of 6:57:09, and Paul DeNobrega placed third in a time of 7:01:56. Raynauth Jeffrey placed fourth with an overall time of 7:02:17. Team Evolution's Christopher Griffith finished six seconds behind Jeffrey for overall fifth position (7:02:23).
Overall, Linden Bauxite Flyers Cycle Club's Suzanne Hamilton finished ahead of Shenika Teixeira and Aneisha Crandon in the female battle.