The Berbice Cricket Board (BCB) would this weekend start the distribution of one million dollars' worth of cricket balls to ninety clubs across the county as this proactive cricket board continues to assist Berbice clubs to fulfill their mandate.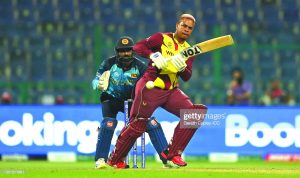 The balls would form part of the 2022 edition of the BCB/Shimron and Nirvani Hetmyer Cricket Trust Fund. The West Indies middle order batsman and his wife have been sponsoring the trust fund since 2021, and have indicated that they would continue to do so as long as the correct President, Hilbert Foster, remains in office.
Foster has said that Mrs Hetmyer contacted him two weeks ago to inform him that the couple were interested in not only renewing their support, but to increase the funds from $1m to $1.5m. Last year, the couple had assisted the board to donate seven hundred thousand dollars' worth of balls across the county, while two hundred thousand dollars was used for educational grants to students living in the New Amsterdam/Canje area.
The remaining funds were used for MVP programmes and coaching. Under this year's edition, one million dollars would be used for the distribution of red cricket balls, while two hundred thousand dollars would be given out as educational grants.
Foster explained that three hundred thousand dollars would be used for the hosting of a one-day grassroots tournament and a three-team female tournament involving West Berbice, New Amsterdam/ Canje and Rose Hall Town Metro.
The grassroots tournament would be played in Canje and would involve four teams, including Young Warriors and Rose Hall Canje. The BCB President also disclosed that under the educational grants, a female national player would receive a grant of one hundred thousand dollars to assist her to successfully complete her studies at the Guyana School of Agriculture.
Foster, hailed the assistance of the couple, who have been very supportive of his presidency, and noted that it was refreshing that current players are assisting in the development of Berbice Cricket.
The distribution of the balls would start on Sunday in the Upper Corentyne area, where thirty clubs would each receive a box of balls.
The next area would be the West Berbice sub-association, where fourteen clubs are expected to benefit.
The BCB, since 2018, has assisted clubs with cricket balls, and, late last year, donated one million dollars' worth of white balls to the eleven first division teams and the Berbice River area under its Patron Fund. Clubs and sub-associations in the county have also benefited from donation of gear, scorebooks, stumps, catching cribs, grass cutters, water pitchers, rain coats, uniforms, educational materials, pitch covers, trophies, medals, bicycles among other things from the BCB since 2018.