A dispute in front of a bar in Suriname has left a Guyanese fisherman dead and three persons in Police custody.
Reports coming out of Suriname stated that the fatal stabbing occurred in front of the Osies Paradise on the Eugène Albert Gesselstraat.
Dead is 28-year-old Herman Dexter.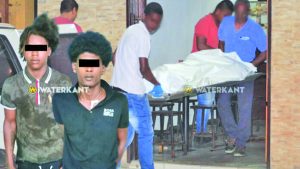 The Waterkant, an online media outlet in Suriname, reported that there was an altercation outside the bar, and security camera footage showed that during the struggle with a knife, the suspect stabbed the victim in the vicinity of his heart. Dexter then collapsed and died at the scene.
The Police of Nieuwe Haven and RBTP managed to arrest one of the suspects – a 19-year-old. The Waterkant reported that two other suspects, ages 20 and 22, were later arrested.
According to Surinamese law enforcement authorities, more arrests will follow since according to Closed-Circuit Television (CCTV) footage, there were others present in the van in which the suspects left following the stabbing.
The Waterkant reported that Dexter's body was taken for an autopsy after consultation with the Surinamese Public Prosecution Service. It was also reported that the public prosecutor's office has since handed over the case to the Capital Offences Department for further investigations.