On the heels of a previous trade mission and deliberate efforts to have Scotland share its oil and gas expertise with Guyana, a new trade mission is being scheduled to allow 15 Guyanese companies to travel to the oil capital of Europe, in Aberdeen Scotland.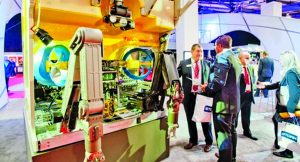 This was revealed on Monday during a press conference at the British High Commissioner's residence. High Commissioner Gregory Quinn and Georgetown Chamber of Commerce Chairman Nicholas Boyer announced the trade mission.
According to Boyer, they will be attending SPE Offshore Europe, which he described as Europe's largest offshore oil exhibition. When asked what he hopes to see come out of Guyana's participation, Boyer cited the chance to network and learn.
"We wanted to take advantage. Because if we didn't take advantage this year of going, we'd have to wait after next year when it's held again. So the British High Commission and our High Commission in the UK worked with [us] and we came up with a way to represent Guyana there. We got 15 companies on board, with 20 delegates."
"The way how I see it, education. Because some of us learn by doing. You don't have enough time to go back and take a lot of classes. So the second part is networking. You need to present a face to these companies. Picture companies outside of Guyana, trying to do research on companies in Guyana. We don't have a ton of information that is readily available online," Boyer added.
According to the Chairman, GCCI will be signing a Memorandum of Understanding (MOU) with Aberdeen to enable more partnerships and networking between the two locations and their respective chambers of commerce.
Local content
Besides helping to facilitate this trade mission, Boyer referenced the role the Chamber is playing in local content and helping companies get in on the oil and gas action. The GCCI Chairman noted that presently, they have been given the draft Local Content Policy to review.
However, he noted that the Chamber is looking at local content from a holistic perspective, as well as acting as a liaison between members of the Private Sector and the relevant Government regulators.
"As a Chamber, we have initiatives we are undertaking and events that we do, for companies. Then we have conversations we facilitate between companies and regulatory authorities. And what we are saying is that local content has to be a holistic approach."
"Holistic in the sense that we need a regulator, we need a policy, we need our regulatory agencies, not just the Department of Energy, that have anything to do with the oil and gas sector, to be aligned so that we can get projects started quickly and get people hired quickly. Even the Ministry of Citizenship, because they will have to issue work permits for any expatriates we need."
Last year, Guyana sent out a trade mission to Aberdeen, Scotland, in November. Agreements were also signed between Aberdeen and the Georgetown Mayor and City Council (M&CC). This year's SPE Offshore Europe will last from September 3rd to 6th.