Alleged kickback scheme
…after T&T company cries foul
GuyOil is denying that anything was wrong with the request for advance payments after a Trinidad-based company cried foul following the termination of its contracts with the Guyana Oil Company (GuyOil) when it refused to make the payments after winning three contracts.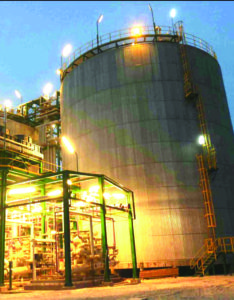 In a statement to the media on Tuesday, GuyOil refuted allegations that it was involved in any impropriety. While the company did not deny that an advance payment was requested, it noted that this came from a Board decision.
According to GuyOil, the Finance, Audit and Administration Committee advised that a local bank guarantee equivalent to the advance payment was required. The State company said that this was communicated to the Trinidadian company, Commissiong, and they were given 14 days to comply.
"After the signing of all contracts, an advance payment security is required. As per contract the company was required to submit an Unconditional Bank Guarantee in a form and by a bank acceptable to Guyoil, in amounts equal to the advance payments," GuyOil stated.
"Following the Board's decision, this was communicated to Commissiong and Company Ltd on July 18, 2019, via email by GuyOil's Facilities Manager (ag). Commissiong and Company Ltd subsequently responded on July 29, 2019, via their attorney, stating that GuyOil had accepted international bonds for the bid security and performance for all the contracts they were awarded."
GuyOil admitted that its Board decided to terminate three contracts granted to Commissiong after they did not submit their security. It also denied that the Chief Executive Officer of GuyOil ever contacted the company or had a hand in the process.
"Commissiong and Company Ltd in their letter requested that GuyOil issue the advance payments within 14 days for all three projects. This was despite their failure to submit the requisite advance security to GuyOil."
"As a result, the Board at its statutory meeting on October 2, 2019, took the decision to terminate all three contracts. The contracts were terminated in keeping with Clause 10.1 (a) of contracts. Commissiong has failed to perform its obligation as per Clause SCC 6.1."
Alleged kickback
Recent reports saw the Trinidad-based company alleging it was approached for money by someone from GuyOil. The reports had said that the official requested money from the company on behalf of a top official in the Finance Ministry.
The company's Managing Director, Nirmala Rambharat, had reportedly refused to make the extra payments. Rambharat had noted in correspondence that she informed GuyOil that her profit margin was 10 per cent of the contract price and thus, she would not be making the payment.
Moreover, Rambharat revealed that after enquiring from other Trinidadian contractors that provided services to GuyOil, they confirmed having paid the GuyOil official 20 per cent of their contract values upon request.
It is understood that the company is preparing to sue the Government, since it has already invested thousands of US dollars in mobilisation efforts to execute the projects, said to be worth over $100 million.
Efforts to contact Finance Minister Winston Jordan for a comment on the issue were futile.
Commissiong and Co Limited is a privately-owned oil and gas servicing company which began its operations over 30 years ago in the twin-island state of Trinidad and Tobago. Its focus is mainly on petroleum, energy, and other related industries within the Caribbean. It boasts as its clients Petrotrin and Guyana's Skeldon Energy Inc.
The contracts Commissiong had with GuyOil included the supply of a canter truck; the supply, fabrication and erection of two 10,000 gallon tanks and for the supply of a rigid tank wagon.