After hosting their inaugural Under-18 tournament last year with the assistance of the Petra Organisation, Guyoil and Tradewind Tankers have come full circle with the rewards for the winning teams.
In September of 2018, the Guyoil/Tradewind Tankers and the Petra Organisation collaborated to launch the first-ever league tournament at the Under-18 level.
After 12 weeks of competition between secondary school teams from Georgetown, East Coast, West Bank and Linden, and a total of 61 games played, Annandale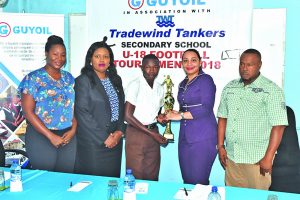 Secondary emerged as champions. Without a doubt, the competition was one to watch with the high point being 29 goals scored on one day.
As such, the competition saw many successes with 278 goals scored, the most by a player in a match being five from Uitvlugt Secondary's Anthony Benn.
The tournament did not go without its share of celebrities as former international player Jorge Abukhalil of Tradewind Tankers made a special visit, where he interacted with players and presented the participating teams with a collection of balls.
Reflecting on the efforts of the companies, Marketing and Sales Manager Jacqueline James noted that the entities are committed to improving the quality of the tournament in 2019.
"I believe that these tournaments do not only bring out the best in the students, but it also gives you an opportunity to meet new people and to see life differently. We at the Guyana Oil Company will be committed in 2019 towards this tournament; and we don't want to see it just at the level where it was in 2018, we want to see bigger and better things," James said.
Furthermore, James announced that Guyoil and Tradewind Tankers would be seeing the school projects through until completion.
"I just want to mention it publicly today that the Guyana Oil Company will support all the schools with whatever project they've selected. I think Annandale would be doing their school ground, so we know more football will be played at that school. So we're supporting the project from the inception to the conclusion," she disclosed.
Vergenoegen Secondary finished in fourth place while the third-place position was taken by Lodge Secondary. Christianburg-Wismar finished as runners-up and Annandale Secondary were champions. Vergenoegen Secondary were also seen as the most disciplined team.
In the individual awards, Makayah Smith of the Bishops' High was adjudged the best goalkeeper and Tyrice Lewis of Christianburg-Wismar copped the highest goal scorer award with 18 goals. Annandale's Omari Glasgow is the Most Valuable Player (MVP) of the inaugural tournament.