…residents still without water
Managing Director of the Guyana Water Inc (GWI) Dr Richard Van West-Charles on Friday said that the utility company had been experiencing difficulty supplying water to residents between New Amsterdam and Number 69 Village, which it intends to address.
Speaking to reporters in New Amsterdam Town Council on Friday, the GWI Director said nine pump stations and two treatment plants in Berbice have been affected by an unstable supply of power from the Guyana Power and Light (GPL).
Those currently being affected are East Canje residents as well as those from Edingburg, Adelphi, Sheet Anchor, Adventure to Number 69 Village, Whim, Black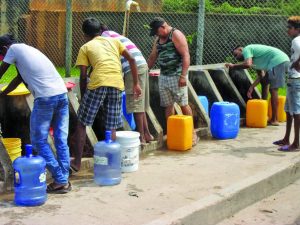 Bush and areas served by the Manchester pump station.
He noted that GWI is experiencing low voltage at its pumping stations in these areas and has been unable to pump water to supply citizens.
"The quality of the power coming in from GPL has not been at the optimum level for our infrastructure to respond," Dr Van West-Charles said.
He added that GWI's assessment shows that the voltage fluctuation, which is way below what is required, is the cause for pumps not to be effectively functioning.
The treatment plants situated at New Amsterdam and Rose Hall Town are currently being operated by generators.
According to Dr Van West-Charles, the generator in New Amsterdam has been working continuously for the past six days although the generator was not built to be operated for 24 hours continuously.
"GWI does not have enough generators to run the nine pump stations situated in the Canje area and on the Corentyne." He added that GWI's executive director has been in contact with GPL's Operations Director, who has indicated that there is a power generation issue at the Cane Field Power Station.
A collaborative effort is ongoing between GWI and GPL in an effort to address this challenge.
It is expected that the problem will be rectified by mid next week.
According to the Director, if this is not forthcoming then the water company will have to make alternative arrangements to get the pump stations powered.
Even as the electricity issues are being ironed out, thousands of residents are still without potable water.
Guyana Times first reported on Thursday that thousands of residents are without potable water along East Canje, Berbice, Region Six (East Berbice-Corentyne) communities.
The shutdown occurred on January 25, 2019.
Chairman of the Number 38/Ordinance/Fort Lands Neighbourhood Democratic Council (NDC) Roy Jaffarally had told this publication that persons have tried to get information from him on the situation, but he has no answers about the total shutdown of water supply in two NDC areas affecting residents as far as Palmyra. He added that this is so because the water company is not forthcoming with information on what has happened.
The NDC Chairman has expressed concern about sanitation, noting that there could soon be an outbreak of disease because of the lack of water in ten villages.