…LGC grateful to Hallmark for stepping up
On May 29, 2021, the Hallmark Guyana Invitational was set to be launched, however, due to inclement weather, the tournament was postponed. More so, the weather made it even worse for any form of golf to be held at the Lusignan Golf Club (LGC). But the sun is out and the club is raring to go as it returns to golfing action once again. The action will commence on Saturday, September 4, 2021, with tee-off time set for 12:30h.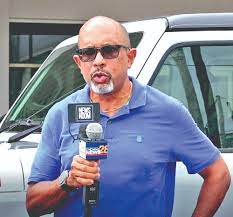 The preferred format of the game will be Medal Play over 18 holes net score, shotgun start. Medal Play, also known as stroke play, is where the total number of strokes attempted is added up over 9 or 18 holes. The winner is the golfer with the fewest number of strokes.
Trophies and vouchers based on net scores will be up for grabs. The first-place winner will cart off a trophy plus a $5000 voucher, second place will receive a trophy plus a $4000 voucher and third place will collect a trophy plus a $3000 voucher. Players will also duke it out for the best net front nine (trophy plus $1500 voucher); best net back nine (trophy plus $1500 voucher); and nearest to the flag (trophy plus $1000 voucher).
Sharing his thoughts on the resumption of golf after a long wait, LGC Club Secretary Chet Bowling said, "We are excited you know, after that drag of continuous rain, I think people are raring to get back in to competition and playing golf on a regular basis. So, we at the Lusignan Golf Club are very appreciative of Hallmark for stepping up and doing their corporate social responsibility – so yes excitement."
All participants are advised to contact the club's manager on the day of the tournament to collect their scorecard, pay the tournament fee and proceed to their allocated tee box to tee-off at 12:30h. Registration closes at 12:00h, Friday, September 3, 2021.