A pedal cyclist was on Friday struck down and killed by a motor car along the Aubrey Barker Road, Georgetown.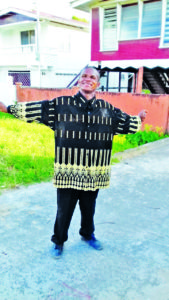 Dead is 33-year-old Morris Gomes of Lot 103 Arapaima Street, Tucville, Georgetown.
Based on reports received, on the day in question about 08:30h, the now dead man was on his way to purchase a bottle of lemonade and in the process, made a U-turn into the path of the motor car bearing registration plate PMM 2024.
He reportedly sustained severe injuries to the head after he fell onto the roadway, and as a result,  died on the spot.
Nikita Kennedy, sister of the now dead man, told Guyana Times t
hat she was at home when she received news that her brother was struck down. However, she paid no heed until the second notification came, bearing the same news.
The grieving woman said she decided to leave her cleaning behind and quickly headed over to the scene of the accident. There, she saw her brother lying motionless on the roadway and he was bleeding profusely.
"I see like my brother die. I asked for the driver and nobody can't say who is the driver and I started to scream," Kennedy related.
According to her, Gomes suffered from a disability and worked around the community doing odd jobs such as going to the shop for residents.
However, owing to his infirmity, another sister and their mother would take care of him.
On the said morning, he was asked to make the purchase, but displayed some reluctance to go. Nevertheless, he went along without fearing the worst.
"A girl sent him to buy some lemonade and somebody said that he didn't want go and they were forcing he to go and this is what happen. He is not a thief. He is not a bad person and he [is] well-known," the sister stated.
Neighbours described Gomes as a willing individual who was known throughout the community.
The driver of the vehicle has since been taken into custody where he is assisting with the investigation.