Although Transparency International said in its 2016 Corruption Perception Index Report that Guyana still struggled with "serious corruption problems", despite moving one place up over the previous year's ranking, Government has maintained that it has been doing everything possible to stamp the practice out.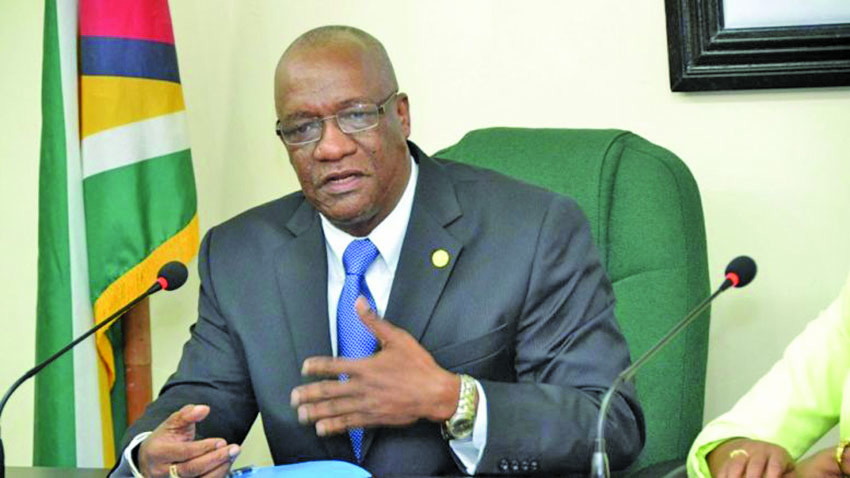 Minister of State, Joseph Harmon was quick to defend the coalition Government when asked recently about corruption remaining a major issue in Guyana. He said the team responsible for writing these reports, depending on who is writing it, would have a different view based on where they were from.
"But from where we are, the people who are here in this country I am sure, that the majority, if not all, believe we are doing a good job in so far as making this country a better place and a more accountable place for all Guyanese," Harmon told media operatives on Thursday.
Harmon argued that the report, which was published earlier this year, did not state that Guyana was more corrupt than it was years gone by and, according to him, all of the indicators from that report pointed to Guyana having a better administration than previously.
"All of the indices that are there. Secondly, the perception of corruption: we put out the facts to deal with it, but sometimes there is a big gap between perception and reality. And that's depending on where you stand; your perception becomes a reality," he opined.
The Minister has reassured the public that the Government was doing its best to make sure that certain processes remained clean from corruption and emphasis continued to be placed on transparency. Whenever corruption is found, Harmon said, Government will take action against it also.
"We have actually done so much in this administration that has moved us up the ladder, that I can say to you that if there is a perception, it was there before and we are now trying our best to work ourselves out of it. When the previous Administration was in, our ranking was far lower."
In fact, Harmon claimed that for the first time in years, the coalition Government presented in the National Assembly a half-year report on the state of the economy, which he promised would happen again. The Minister also claimed that the various Commissions of Inquiry being conducted were all meant to ensure that any corruption or any perception of corruption could be corrected.
The Opposition has long been critical of several Government policies, and has stated that corruption and scandals were more than the present Government had accused it – the People's Progressive Party/Civic (PPP/C) – of committing.
Opposition Leader Bharrat Jagdeo had lashed out at anti-corruption advocates and civil society bodies over their silence on what he called "blatant corruption and excesses", exhibited by the coalition A Partnership for National Unity/Alliance For Change (APNU/AFC) Government.
Jagdeo has repeatedly spoken about the controversial $605 million drug purchase single sourced from ANSA McAL as well as the infamous 'pharma-gate' scandal costing taxpayers $174 million annually.
Jagdeo has also spoken out against Government agencies making out cheques in large amounts and accounting officers holding billions of dollars in cheques that are then used in any kind of fashion.
Out of 176 nations that were assessed for perception of corruption last year, Guyana came in at the 108th position with a score of 34 out of 100. Guyana shares its spot at 108 with several countries, including Egypt, Algeria. Neighbouring Trinidad and Tobago is just above Guyana.