…probing claims of voter fraud beyond GECOM's remit – ANUG
…GECOM Chair silent on claims of investigation
Chairman of A New and United Guyana (ANUG), Timothy Jonas is questioning whether the Commissioners of the Guyana Elections Commission (GECOM) have control over the actions of their Secretariat following the revelation that it has undertaken the task of investigating unsubstantiated claims of voter irregularities.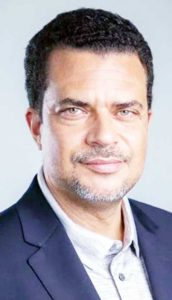 GECOM pro-coalition Commissioner, Vincent Alexander on Friday related that the Secretariat had written to the Chief Immigration Officer requesting the corroboration of the A Partnership for National Unity/Alliance For Change's (APNU/AFC) allegations of migrated persons voting on Elections Day.
The Keith Lowenfield headed Secretariat is, according to Alexander, seeking immigration records of persons APNU/AFC identified as being out of the jurisdiction and having cast a ballot. This claim has been thrown around by the coalition leaders and its agents but they are yet to provide substantial evidence of this ever occurring.
As a matter of fact, several persons who the coalition objected to as being out of the country on March 2, have publicly come out to refute those claims.
Rogue Secretariat?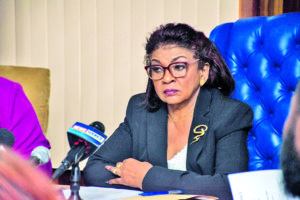 "I find it worrying that one member of a 7-man Commission can take it on himself to come here [before the press] and make that statement when in the same breath GECOM is saying they don't know anything about it and didn't give any such instruction. So, the question I have to ask if Alexander's statement is true – that the Secretariat is doing this [investigation]. Have the Secretariat gone rogue? Are they acting on their own, without instructions from GECOM?" Jonas questioned.
He went on to express no confidence in Lowenfield, his Deputy Roxane Meyers and his Personal Assistant Duarte Hetsberger.
"I don't know these people personally but I've seen their actions. I've seen their conduct," he expressed.
The attorney went on to question what or who empowers the Secretariat to act of its own accord when the Commission is yet to make a collective decision on the way forward. Jonas spared Alexander no mercy when it came to the claims of investigation seeking answers as to why Alexander seems bent on going against the very Commission of which he is a part.
The ANUG Chair said the developments are worrying since Alexander seems to know more than meets the eye. In this regard, he called on GECOM Chair, Retired Justice Claudette Singh to step up and lead.
"It is time for the Chairman of GECOM, now that Mr Alexander has come to make that statement, to inform Guyana what GECOM's position is on it. Whether GECOM has given these instructions," he said.
Jonas further added that the time is now for Justice Singh to pellucidly say whether GECOM is collecting evidence on the allegations and how it is doing so.
Compromised
The General and Regional Elections of 2020 has been plagued by legal challenges and one thing that the courts established was that GECOM is autonomous and independent and that it must do its job properly.
According to Jonas, he fully supports that principle but in the same breath noted that himself and the entire of Guyana know that GECOM has been compromised following the actions of Returning Officer for District Four (Demerara-Mahaica), Clairmont Mingo and a selected few.
He noted that if GECOM is to do its job properly then it will have to use its record of who voted once the proper procedure was followed. He urged persons, as well as the Commission, to compare and contrast the discredited figures by Mingo with that coming out of the ongoing recount.
Jonas contended that "GECOM is not qualified to do that [investigate allegations], that is for the court. So, it would be wrong in my view for GECOM to try to do that and if they did that, I would say they are acting wrongly," he added.
Beyond GECOM's remit
In a letter to the GECOM Chair, ANUG reiterated Jonas's contention that investigating the APNU/AFC's allegations would be outside of the remit of the Elections Commission.
AUNG Executive Kian Jabour expressed concern over reports that GECOM Secretariat has reached out to Government agencies to corroborate claims made by the APNU/AFC about dead and migrant voters.
In the first place, he noted that GECOM Commissioner Alexander seems to be the only Commissioner who knows that the Secretariat has taken these steps. According to Jabour, it is alarming to think that the Secretariat would act without the authorisation of the Commission, a case of the tail wagging the dog.
The party also noted that even if the Secretariat was acting on the Commission's instructions, it would be unlawful for the Secretariat to conduct "a trial to receive evidence from external sources" and investigate APNU/AFC's claims of electoral fraud. Such matters are for an election petition.
Alexander alleges
In what can clearly be described as a clear attempt to kerfuffle, Alexander on Saturday told the press that the letter to the Chief Immigration Officer was sent by the GECOM Chair. He now claims that the Chair informed the Commissioners in a meeting just over a week ago.
However, Justice Singh remains silent on whether she was the one who dispatched the letter.
Alexander had claimed that the electoral body's Secretariat—headed by Chief Elections Officer, Lowenfield—had written to the Chief Immigration Officer in order to ascertain whether persons identified as voted by APNU/AFC agents were in fact out of the jurisdiction on Elections Day.
The disclosure has since been observed as exposing an informal alliance between Lowenfield's Secretariat, since this information had not been ordered by the Commission nor shared outside of the Secretariat to any of the other Commissioners.
Responding to the "startling disclosure that the Secretariat has written, or is about to write certain public authorities requesting certain information relative to the allegations which APNU/AFC have been making" People's Progressive Party/Civic (PPP/C) tabulation agent, Anil Nandlall reminded that the Secretariat is subordinate to the Commission.
Sase Gunraj, a PPP/C-nominated GECOM Commissioner, had earlier told reporters the Commission has made no such decision and further, no such diktat has been passed down to the Secretariat for implementation.
According to the PPP/C Commissioner, "GECOM has taken no decision, the Commission has taken absolutely no decision in so far as it relates to treating with any of the issues that have arisen or may arise during this recount process, in so far as they are recorded, either in individual observation reports or compiled observation reports."