After months of blocking the entrance to the Hampton Court Aerodrome, Essequibo rice miller Wazeer Hussein was on Monday last, through a High Court injunction, ordered to remove all materials that hinder a smooth passage to the facility.
The interim injunction was given after the owner of the Aerodrome, Tamesh Jagmohan made an application for Hussein to refrain from blocking Parcel 440 Block XXXI at Plantation Hampton Court, Essequibo Coast. The injunction was granted by Justice Gino Persaud. The court document also stated that if Hussein fails to comply with the terms of the judgement, he will be in contempt of court and may be liable to imprisonment or have his assets confiscated. Hussain reportedly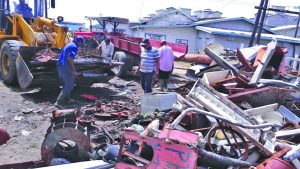 have until December 19 to clear the area.
However, Guyana Times understands that the miller up to late Thursday afternoon was in the process of removing the debris which he used to block the entrance. When contacted, Jagmohan told this publication that the entrance was cleared thus making the aerodrome accessible.
Hussein was arrested two Thursdays ago after he continued to block the entrance to the Hampton Court Aerodrome, on the Essequibo Coast. As recent as Saturday last, Social Protection Minister Amna Ally was forced to use the private entrance after Hussein refused to clear the entrance for the Minister to pass.
She had promised to raise the issue with the Divisional Commander.
About two week ago, Hussein was slapped with several charges including resisting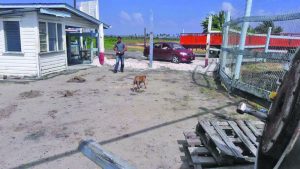 arrest, threatening behaviour and obstructing officials of the Guyana Lands and Survey Commission (GL&SC) from carrying out their duties.
Hussein is claiming ownership of the plot of land that is used to gain access to the aerodrome, but according to documents provided, the GL&SC had informed the businessman that the plot of land was owned by the State and as such, ordered that he give up possession of the reserve immediately.
The notice also stated that failure to comply will result in legal action being brought against him by the Commission.
It was reported that Hussein was being questioned in relation to the death of a baby. The infant was transferred from the Essequibo Coast to the Georgetown Public Hospital but on the day of transferal, the Hussein blocked the entrance to the aerodrome, thus causing a prolonged delay in the execution of the medevac.
In addition, Guyana Times understands that Hussein would have made several comments on social media which is also being investigated by the Police.