…Ministry to implement mechanisms to address zero scores – Manickchand
The National Grade Six Assessment for 2021 recorded high performance for both English and Social Studies among students who would have sat the examination.
The Caribbean Examinations Council (CXC) was tasked with setting the assessment, along with additional responsibility to supervise, grade and conduct quality checks.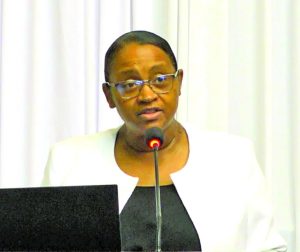 As the Education Ministry on Friday announced the anticipated results at the Arthur Chung Conference Centre, CXC's Director of Operations, Dr Nicole Manning gave a breakdown of the results.
There was a 65.7 per cent pass rate for English, with 242 students securing a perfect score. For social studies, the percentage pass increased to 56.3. Science secured a pass rate of 40.1 per cent while Mathematics recorded 36.5 per cent pass.
"Just to put into perspective, we want to share that English would have had the highest and best performance for 2021. Social Studies would have had the second-best performance, Science and Maths [in third and fourth respectively]," the Director announced.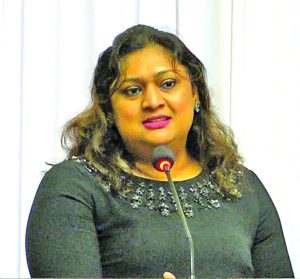 Candidates performing better than 75 per cent saw a breakdown of 1980 females and 1547 males. Top performers by gender were seven females and three males.
Even with high scores, there are instances where students scored zero. Mathematics would have seen 10 students scoring zero marks. Dr Manning pointed out that attention must be paid to both ends of the spectrum, with the necessary strategies in place to improve on the low performance side.
"In every one of the exams, you would have had candidates scoring at both ends. Just as how most times, we're very interested in the high performance, I'm sure the Ministry of Education is just as interested in the lower performance and would want to make sure that the necessary improvements are put in place to ensure that these students are brought up to par," she underscored.
Meanwhile, Education Minister Priya Manickchand highlighted that CXC's role has been expanded in the NGSA, to maintain the integrity of these exams.
"CXC will be doing any review that is applied for, not NCERD (National Centre for Education Resource Development). This year, CXC takes the exam from the top to the bottom and we believe that is truly the only way to say they're here.
She added that from the onset of the COVID-19 pandemic, it has been a challenging time for the education sector. However, through contingency plans and innovation, the Ministry was able to secure promising results.
"This is the worst year possible in a long time and it is the year we produced the most. Every single child got every single textbook you needed. This is the year we created a television programme for every topic that is likely to be tested and had a teacher teaching online. We put that on TV and we put it online. This is the year we put together questions and posted them online and students can answer them and get their results immediately. This is the year we consolidated the curriculum so that instead of 40 weeks, we consolidated into 20 weeks."
She continued, "Things like COVID will never win because we will always stand up, facing challenges. There is nothing like can't and we will rise up from this."
Even in light of the current crisis, she said Government is pushing for every student to have a solid secondary education, regardless of their location or school.
Moving forward, Manickchand noted that emphasis must be placed on mechanisms to improve on the zero scores. She relayed that while Guyana had instances of zero scoring in the past, the Ministry chose this year to highlight this issue.
"You can't take a child who can't put a single word on the paper and get marks and throw them into a high school and expect them to function. You have to find individualised pathways for that child or else you're failing them even before you begin," she outlined.