– $21.5B spent to develop areas where house lots are being allocated
By Nathifa Punch
During the sixth edition of the Central Housing & Planning Authority's "Dream Realised" Housing Drive, held at the Guyana National Stadium on Friday, a total of 1000 residents from the East Bank of Demerara (EBD) received their house lots.
Distributions were made within the Grove, Great Diamond and Little Diamond areas in Block 9 Plantation Golden Grove along with Block 5 Plantation Great Diamond, EBD. A number of recipients are said to be dated back to as far as 2000.
During the event, Housing and Water Minister Collin Croal stated that as it relates to physical housing, a number of low-income and middle-income homes within the East Bank area, along with other projects, are being undertaken.
"Currently, Prospect is earmarked for 100 low-income houses, of which 50 are in progress, and Little and Great Diamond, another 522 similar houses. We have also commenced mobilisation exercise for the construction of 140 houses for young professionals in Prospect, 200 are ongoing in Providence, of which 100 is complete, and another 500 in the Little and Great Diamond areas which will begin in the first quarter of 2022," the Minister shared.
Further, he highlighted that even with all of this occurring – allocation of house lots and the construction of homes, the Ministry through its agencies is implementing several initiatives in ensuring the accessibility of water within the area, expansion to road networks is carried out, improved housing conditions by way of grants, and promoting employment through community-based projects.
He noted that along with the demands for more houses and house lots, other demands such as better roads, drainage, and access to water are also being addressed.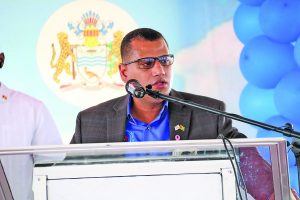 In this regard, he revealed that "close to $7 billion is being spent on the first phase infrastructure for the upgrading of existing access roads, access bridges, unsurfaced roads, pipe networks, drains, and culverts here on the East Bank."
Croal further stated that $21.5 billion is being spent overall on developmental projects within the Grove, Little Diamond and Great Diamond areas, inclusive of the four-lane concrete highway from Eccles-Great Diamond.
"In short, for this year, 2021 and next year, our projected plans should see us expending 28 billion dollars here on East Bank alone," Croal stated.
House lot payments
The Minister was sure to clarify that all payments for house lots are done at the CHPA office or at events such as the housing drive where official receipts are given.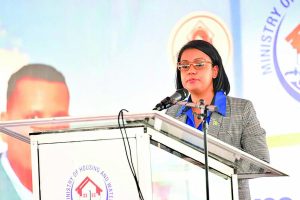 "Payments are not done through third parties, at street corners, or anyone's home. We are aware that there are unscrupulous persons who may want to trick you at your hard earned money so, to you present today… be warned," the Minister expressed.
Becoming home owners, avoiding relocation
Meanwhile, Minister within the Housing and Water Ministry, Susan Rodrigues related that the distribution processes are not as easy as it may appear to be. However, she noted that for 2021 the Ministry and the Government by extension will achieve its 10,000 house lot allocations bench mark.
Moreover, it was highlighted that the Ministry's commitment is not only to distribute house lots, but it also has a major focus on home ownership.
"We want to avoid some of the things that have happened in the past where we have schemes that are five years, ten years old and still are not fully occupied," Rodrigues pointed out.
"In order for you to reap the benefits and in order for our country to reap the benefits of our housing drive, we need our people to occupy their lots. We need our people to have the opportunity to access financing so that they can construct their own homes."
"Our relationship does not end here today," Rodrigues revealed to the allotees. "As a matter of fact it's the beginning of our relationship, because throughout the process of moving you from an allotee being able to conclude and complete the infrastructural works for you to be able to go and occupy your lot, then to get you from that position to becoming holders of your certificate of title and then being able to take that to the bank and to acquire a loan and to construct your own home, the Ministry of Housing and Water, President Ali and the Government of Guyana will be there with you every step of the way to ensure that that becomes a reality," she assured them.
Additionally, she noted that while there are a lot of competing interest for land for commercial development, industrial development, the Ministry's priority is to make lands available for ordinary Guyanese to be able to construct their home.
"…for you to create generational wealth for yourself. For you to have a legacy, for you to have something to leave for your children and so that you can put the future generation at a better starting point. Giving them a better edge. You're not doing this just for yourself, you're doing this for your children, you're doing it for the generations that are coming after you," Rodrigues lauded.
Meanwhile, she revealed that the allocation process is a measured approach. Meaning consideration was made with regards to where the allottees currently reside.
"…the last thing we want to do is to displace people and to make it difficult for you to transition from one community to the other."
"We recognise that where you are currently residing, you have ties, you have roots, you have children who may be in school in that community, you have parents – elderly parents that you may want to stay close to, and so you don't want to move far away."
She noted that this approach will also make the transition as easy as possible from where they are currently residing to their new home.
Meanwhile, NDC Chairman of the Grove-Diamond NDC, Indranie Ramnarine expressed her gratitude to the CHPA for the continuous development being conducted within the area and urged allottees to waste no time in constructing their homes.
The event also saw a number of financial institutions present including The New Building Society (nbs) Ltd, Guyana Bank for Trade and Industry (GBTI), Demerara Bank Ltd, Citizens Bank, Republic Bank Ltd and insurance companies, as the allotees embark on their journey to becoming homeowners.