– suspect nabbed, confesses to crime
A young East Coast Demerara (ECD) businessman was on Friday stabbed to death during a robbery on his electronics store. Dead is 20-year-old Chris Persaud of Strathspey, ECD.
Based on reports received, the young man operated an electronics store in the area called "Deals on Electronics".
However, on the day in question at about 17:00h, the young man was in the store when the bandits invaded and held him at knifepoint during which they collected several pieces of electronic devices.
The businessman was also relieved of a gold chain he was wearing at the time along with an undisclosed sum of cash. As the men were about to leave the premises, one of the bandits stabbed the young man to his neck.
Persaud managed to exit the building and raise an alarm. He then collapsed. He was picked up and placed in a vehicle with the intention of being taken to a private medical facility but he succumbed to his injuries. He was pronounced dead at the hospital.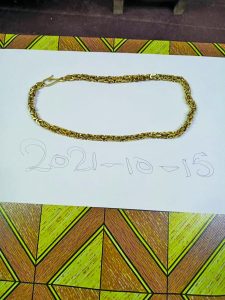 At the home of the dead young man, his father, Devin Persaud, told media operatives that his now dead son was in the electronics store while he was in another section of the business place. He noted that at the time, his son was alone in that section.
He could not say what transpired but he recalled seeing his son exiting the building with a knife stuck to his neck. "All I see is meh son with a knife through and through he neck and then he collapsed… we picked he up and was taking he to the hospital but he died on the way," the inconsolable father explained.
The devastated father related that he would get a clearer idea of what transpired when he reviews the CCTV footage.
Meanwhile, the Police stated that shortly after the robbery/murder, a 24-year-old man was arrested. In his possession was the gold chain which the young businessman was wearing at the time he was killed. The suspect has since reportedly confessed to the murder. He is assisting the Police with their investigations.