As rain drops sprinkled over the Arthur Chung Conference Centre, Liliendaal, Greater Georgetown on Saturday, scores gathered to pay their last respects to the late Andaiye, a founder of women's group Red Thread and Executive Member of the Working People's Alliance (WPA).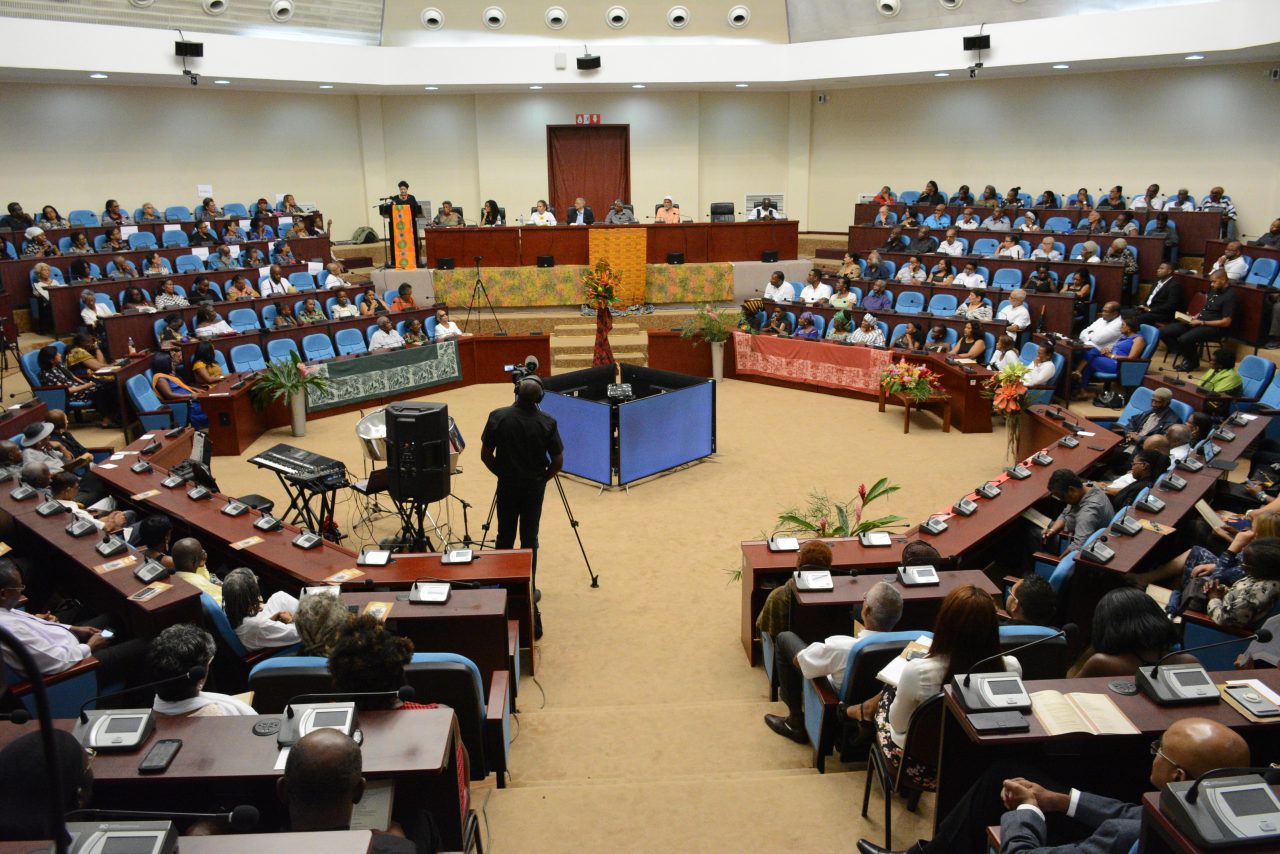 Andaiye breathed her last on May 31 aged 77. She had spent the last 15 days of her life in the Intensive Care Unit (ICU) of a private hospital.
Her inconsolable niece, Alissa Trotz shared a piece composed by the writer on her deathbed: "On International Women's Day 1989, I was diagnosed with cancer. Later, I learnt it was stage four B Lymphoma, an aggressive form of Non-Hodgkin's Lymphoma. Treated with Chemotherapy by the early 1990s, I was in remission, but towards the end of 2011, I was told by one of the doctors that the protocol they used had been found to produce late effects, chief among which were three illnesses I was now suspected of having. A secondary cancer, congested heart failure and severe fix obstructive lung disease. I also had peripheral neuropathy. To quote the main character in a play called "Wit" by Margret Edson, my treatment had imperilled my health".
Meanwhile, over 10 other speakers reflected on the gem the late activist was. Her former colleague, Tacuma Ogunseye from the WPA told the almost-filled auditorium that the party would continue to carry on her legacy.
"Sister Andaiye, you have made tremendous sacrifices; you have fought a good fight for over 30 years against cancer; we know you are tired, so rest in peace… the women of Guyana and children of Guyana and the women of the Caribbean and the world have the greatest ownership of the legacy of Andaiye. … but we (the WPA) want to say that we do believe that we are entitled to part of that legacy … and we will fight to support what we understood our sister wants to achieve in the country," he said.
Help and Shelter member Denise Dias reminded that the late activist played a vital role in establishing the group.
"Andaiye was a founder-member of the WPA, Red Thread and the Cancer Society, but few knew or remembered that she was also the founder-member of Help and Shelter…. Andaiye's passion and knowledge on justice for women and children was never more needed during our early days at setting up Help and Shelter. Her commitment, advice, and simple straightforward manner of relating her views is part of the reason that after 25 years, Help and Shelter has become a leader in the fight against violence in Guyana," Dias remarked.
Karen de Souza, a close friend of Andaiye, was last to share her tribute: "The first time I met Andaiye, she was 36 years old and I eventually discovered that along with Walter Rodney and Rupert Roopnaraine – these three were close in age…. I start with her age to say that young people working together with elders like Moses Bhagwan were leading a movement that rocked the established order and many assumptions of the day. What a contrast of today! Young people being largely absent from the decision-making spaces."
In a more personal tribute, Andaiye's goddaughter, Vikki Jackson, recalled that as a child, she was always kind and loving towards her. She explained how distraught she was to hear of the passing of the late activist, who had been the one supporting her when her mother died some time ago.
An organisation will be set up in memory of Andaiye.
She was also a founder of the Cancer Survivors Action Group, and worked with the Women and Development Unit of the University of the West Indies (WAND) from 1987 to 1992, and with Caricom from 1987 to 1996. In 1997, she was awarded the Golden Arrow of Achievement, the fourth highest national award.
The activist will long be remembered as a black power proponent, who saw the movement towards black pride and dignity as a necessary step in our independence journey. She changed her name from Sandra Williams to Andaiye, which meant "daughter who has returned" and wore her hair in an Afro, a style she would never change.
She often spoke of how she was never able to visit her ancestors' homeland, Africa. As such, her ashes will be taken to Africa.