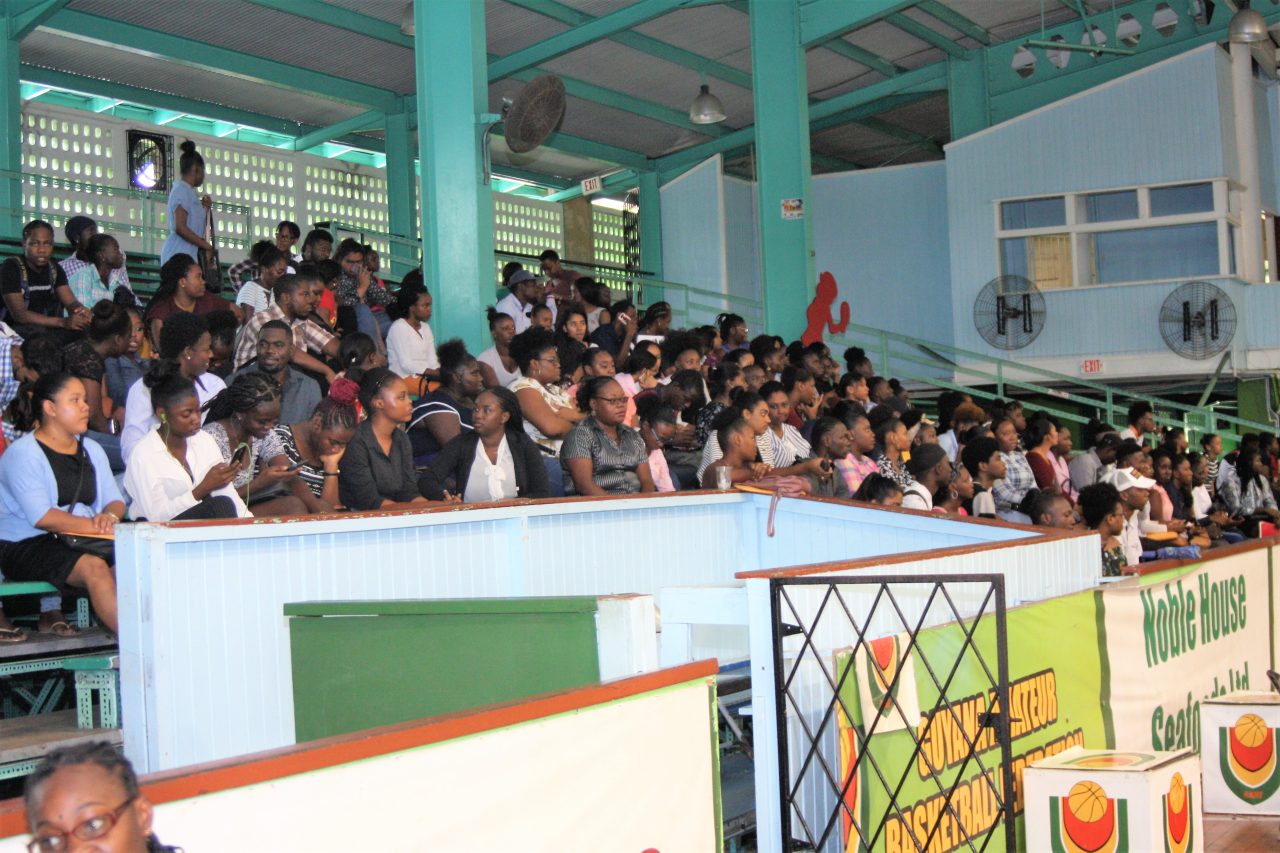 …701 online applications received
Hundreds of young people who are unemployed, on Friday morning crowded the National Sports Hall, Homestretch Avenue, Georgetown, where the Department of Youth held its first job fair to address the scourge of unemployment, which affects some 40 per cent of youths.
Senior Research, Planning and Development Officer within the Department, Adeti De Jesus told Guyana Times that the unemployed youths turned up to the Sports Hall before 07:00h to be interviewed.
According to her, when the officials arrived to open the doors, youths were already standing outside.
In fact, youths who had become desperate for employment after being at home for a number of years took the opportunity to apply online for the job fair prior to Friday's event.
Some 701 online applications were received, De Jesus said, while other youths showed up to the event without being registered. Those persons were referred to the Central Recruitment and Manpower Agency where they were interviewed for future employment.
The officer further explained that there was a specific process to avoid confusion among the hundreds of young people. She said, "We colour coded it (so) each company is given a code and when persons come in, they register (and) we're giving them a chit with a number and a code and they are expected to sit in accordance with their colour in chronological order so they will be interviewed based on that".
De Jesus could not say how many youths would be hired but noted that the Department is seeking to have such initiatives held at least once quarterly to help youths become employed.
Moreover, she appealed for more businesses to come on board with the hiring strategy.
Guyana Times caught up with a few youths who shared their experiences and all called for more of such activities to reduce the high number of youths at home.
Shania Gomes, a youth who has been at home for several months, told this publication that she felt excited about the event. She added, "I'm glad that there is actually an initiative for young people as myself who are unemployed to actually come out and be interviewed to learn more and get to know more about the working world and even (take advantage) because they are offering training".
Gomes said she was made to understand that over 700 young people had registered for the fair and noted, "For 700 to be interested in a first-time something like this you can just imagine what would happen if it happens every three to six months".
Towana Boucher of Plaisance, East Coast Demerara, who hurried down to the event for 06:00h said she feels the event was a good and timely one. "It's good whereby it's a lot of young people out here. They have the opportunity to get a job," Boucher explained.
Samuel Samuels, a youth from Agricola, Greater Georgetown, said he was looking to be hired by Demerara Distillers Limited (DDL), but hopes other companies, especially those from the oil sector can come onboard and offer employment opportunities to the youths of Guyana. He said, "I think it's a great initiative because we never had this before in Guyana so it's something we were always pushing for and I'm thankful for it… but I think they should get like more companies coming into it, like different sectors".
A few of the agencies who participated in the job fair were Courts, Qualfon, GTT, Demerara Distillers Limited (DDL) and Giftland.
On Wednesday, the Director of Youth, Melissa Carmichael said she was looking forward to the event being successful in hiring youths, to lower the amount of jobless young people.
The issue of unemployment among Guyanese youths has been on the rise and has been the cause for the hike in robberies and other crimes.
Presidential Candidate for the People's Progressive Party/Civic (PPP/C) Irfaan Ali on Thursday told the media that the A Partnership for National Unity/Alliance For Change (APNU/AFC) Government has failed to deliver most of its manifesto promises to the Guyanese people in the more than four years the Administration has been in office.
According to Ali, Guyanese have to hold Government accountable for this failure, which has resulted in the hardships many citizens face, especially among the vulnerable groups such as women, the elderly and youths.
He reminded of Government's promise to stimulate job creation, especially for youths, but instead they have caused the country to face 37,000 job losses in various economy-driven sectors. He went on to revealed that under the APNU/AFC, Guyana has slipped four positions in the employment rate for the 25-54 age group and seven positions for the age group 54 to 64 on the Global Human Capital Index.
Among the host of promises the PPP has mentioned that will be in its manifesto, is the creation of 50,000 new jobs and according to the Party's Presidential Candidate, even this figure is too conservative.