Scores of officials and residents on Saturday turned up at the Mackenzie Sports Club (MSC) Ground to pay final respects to former Chief Executive Officer (CEO) of the National Industrial and Commercial Investments Limited (NICIL) Horace James, who passed away on January 30 following a battle with cancer.
Paying tribute were close family and friends and numerous officials including Minister within the of Social Protection Ministry Keith Scott, former Prime Minister, Samuel Hinds, former People's National Congress leader, Robert Corbin and officials attached to the Linmine Secretariat and Linden Electricity Company Inc (LECI), amongst others.
James's brother, Bryan James, in presenting his eulogy, reflected on his life and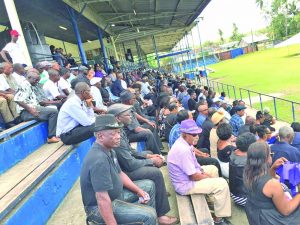 achievements while noting that teachers would always refer to James, who originally hailed from Mahaicony as a "scholar".
He recalled that James would always make time for family despite his work life, which also led to him being awarded the Golden Arrowhead of Achievement in 2016.
Minister Scott in his tribute, extended condolences to James's family on behalf of the Government of Guyana as he described him as an "outstanding son of the soil" who has made significant contributions towards the development of the mining and bauxite fraternity.
The Minister posited that James has left a rich legacy on the country's social, political and economic landscape as he also referred to him as a "trailblazer" who is gone too soon.
"…the full impact of his work remains immeasurable…In every office that he occupied his performance was of an unquestionable standard which qualified him to be a true game-changer in the fields of both national and human development…his works and achievements are so dynamic that he will live on for many generations to come," he noted.
Representative of the Linmine Secretariat, Emmet Alec in his tribute made the call for memorabilia to be established in the community and be named after James. James, who was a Lindener, also served as Director of the Linden Technical Institute, Head of the Linmine Secretariat and CEO and Deputy CEO of the bauxite company, Linmine.
He also served as the first Regional Chairman of Region Ten (Upper Demerara-Berbice) and Chairman of the LECI, among numerous others. James was laid to rest on Sunday following a home going service in Georgetown. He was 68 at the time of his passing.