After almost one week of being locked out of the Mon Repos Primary School's premises, parents can now enter to drop off their children.
This is according to the Education Ministry, which on Monday revealed that an intervention was made which would now permit parents to enter the school under certain conditions.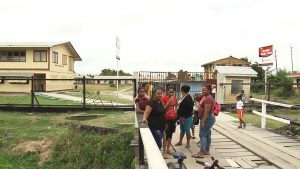 The Ministry in a statement said the parents were staying in the school's compound during instructional periods which was not allowed.
An agreement was, however, recently made by the school's administration with the Ministry which will allow parents to bring their children into the school as per normal, but when the bell rings, "those parents who are still within the confines of the school awaiting the dismissal time should be encouraged to go home and return at dismissal time for the children," the Ministry informed.
An emergency Parent-Teacher Association (PTA) meeting was scheduled to discuss these matters.
The Ministry assured that normalcy has been restored, and the situation would continue to be monitored closely to ensure that all stakeholders were on-board and efforts are made to strengthen the school-community relationship.
Parents of pupils who attend the Mon Repos Primary School on the East Coast of Demerara last Tuesday protested the administration's recent move to ban them from entering the school to visit their children since a laptop went missing.
According to the upset parents, a meeting was held with them last Monday when it was announced that they would no longer be able to visit the children during the day or even enter the school to pick them up or drop them off as a result.
The fuming parents complained that this drastic step would serve as a major hindrance since many of their children, especially those in Grade One, depend on their parents to use the washroom and even eat.
The parents said that they would have even been willing to use a visitor's or parent's badge if the school provided one, just so they could be with their children.
Earlier in January, the Ministry was forced to intervene in a similar matter at the Diamond Primary School on the East Bank of Demerara.
Guyana Times understands that the ban on parents was imposed after a teacher reported that she had lost her laptop as well.
After the report was published by this newspaper, an intervention was done by the Ministry which led to the parents being allowed to enter the premises again.