Bisram murder probe
– Uncle affirms one year after death of Corentyne Carpenter Fiyazz Narinedatt
By Shemuel Fanfair
Last week Wednesday marked exactly one year since the November 1, 2016 brutal killing of 27-year-old Corentyne carpenter Fiyazz Narinedatt, whose body was dumped on the Number 70 Village public road and then allegedly 'run over' by a vehicle to make his death seem the result of a hit-and-run accident.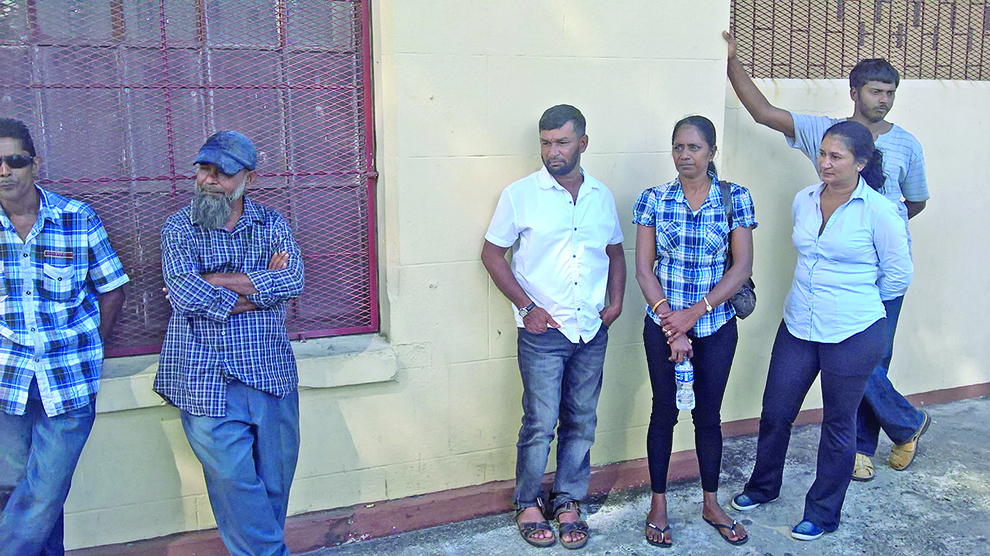 Marcus Bisram, the high profile murder accused who is currently awaiting extradition from the United States, was said to have ordered the killing after the young father had reportedly rejected his sexual advances.
Narinedatt's uncle, Abdool Rizan, spoke with Guyana Times following a High Court ruling striking out an appeal to withdraw Bisram's murder charge and investigation last week. Rizan highlighted that many of his family members have been living in fear, tormented by the thought that they could be harmed at any moment because of the influence the New York-based businessman wields with money and power.
The still grieving man told this publication that even though they are poor people, they remain hopeful that justice would prevail in the end – a comment he made in light of the many controversies that surround the case, including allegations of bribery and witness tampering.
"We are getting justice in this matter. Let the law take its course and we will get an answer. We are pleased so far…they are after my family, they sending people to talk to me to take bribe, but we don't want no [money]. We are poor and we fighting it to the last," Rizan expressed last week.
He indicated that he does have some concern for his family's safety, but stressed — and even called on the Head of State to ensure that mechanisms are in place to ensure that justice is fairly handed out.
"Nobody is no fool in this country… I call on the President to let the justice system be fair to people…I ain't fear nobody; I fear the Almighty. Allah is with me! I will stand for justice for my nephew. I will never leave a stone unturned until a decision comes out in my nephew's case. We have to stand in this country and make sure that justice stands for all people – all Guyanese," a very vociferous Rizan emphasised.
Last Tuesday, High Court Judge Gino Persaud ruled against the application to have the Director of Public Prosecutions (DPP) withdraw the case against Bisram, and ordered the applicant's attorney, Sanjeev Datadin, to pay $250,000 in court costs.
Datadin had, on September 25, filed an application on behalf of Bisram's mother, Sharmilla Inderjali, to quash the murder charge against Bisram on ground that one of the main witnesses for the Prosecution had recanted his statement. Datadin told Guyana Times that during the proceedings, the witness could not confirm what was in his statement, as neither he nor his mother could read.
"He said he didn't know what was in his statement, he didn't have any way to verify it; and his mother was unfortunately unable to assist him because of the inability to read as well. So he recanted his story, [and] we filed an application to say that the DPP could not have a reasonable prospect of success any longer," Datadin outlined on Tuesday last.
Justice Persaud had however observed that there was material non-disclosure in Datadin's application, as he had not included in the affidavit that he had made an application in December 2016 to stop the DPP from advising the Police in Bisram's murder probe.
Marcus Bisram was charged in absentia last year for the murder of 27-year-old carpenter Fiyazz Narinedatt, while five other men were also charged for the killing. Those men are: Radesh Motie, 39; Diadatt Datt, 18; Harri Paul Parsram, 49; Orlando Dickie, and Niran Yacoob, 37.
Additionally, Bisram's mother and sister were also charged and were remanded to prison, after they had allegedly offered bribes to Police ranks to "duck the case". The mother, Inderjali, was also recently charged for witness tampering. Reports last year were that Narinedatt had not only rejected Bisram's sexual advances, but had slapped him several times, and it was out of embarrassment that Bisram had allegedly instructed his associates to "get rid" of the father of two.