…as Finance Minister urges more private sector partnerships with IDB
With the signing of a historic agreement between the private sector and the investment arm of the International Development Bank (IDB), Finance Minister Dr Ashni Singh has urged the private sector to seek out more such partnerships and know that their options are not just limited to banks.
The signing of the loan agreement took place on Monday, between the IDB's investment arm and beverage giant, Demerara Distillers Limited (DDL). The loan, which amounts to US$22 million, is the largest loan that has ever been approved by IDB Invest to a Guyanese company.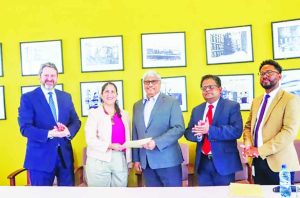 However, Finance Minister Dr Ashni Singh was optimistic that at some point in time, this record can be broken. He urged other members of the private sector to take heed of this agreement and seek out loans of their own.
"We have for a very long time been advocating the IDB doing more with the private sector of Guyana. And in fact, for many years, we've been calling on IDB Invest to explore more opportunities to partner with the private sector. And I'm happy to say that in recent years we have seen an extremely positive response to this call."
"This transaction represents the largest transaction every done by IDB Invest with any private sector company, in the history of IDB Invest operations in Guyana. And that in itself… is a significant sum," Dr Singh also said.
There is also the value-added aspect of the investment, with Dr Singh lamenting that Guyana has for a long time been stuck in a cycle of producing primary goods only to have it sold to the country as processed goods.
"This investment will also create a larger market for farmers who grow fruits. From that perspective, it fits perfectly within the 25 by 25 initiative that is being led by President Ali… the Caribbean initiative for promoting greater food security, for promoting agro-business and agro-processing, and primary agriculture production," he further said.
Diversification agenda
Meanwhile, DDL Chief Executive Officer (CEO) Komal Samaroo revealed that over the next three years, approximately $100 million will be spent on capital projects. This sum, according to Samaroo, will go a long way towards the company's diversification agenda.
"In our ongoing, planned and future growth, we are creating new income opportunities for agriculture, with major growth in the demand for fresh fruit. I believe that our demand is about five times what we are getting. So, there is demand for fruits," Samaroo further said.
"We continue to build and invest in supply chains, from farm to factory, to make it easier on the farmers. And we continue to build our brand to increase demand. In addition, we plan a modern dairy project, which will be a significant supplier of dairy products to the domestic market, as well as creating export potential in the Region."
IDB Invest is the private sector arm of the IDB and it largely focuses on financing projects that promote clean energy and agriculture in Latin America and the Caribbean. Meanwhile, DDL is one of the leading manufacturing companies in Guyana. It also acquired a licence to open a World Trade Center in Guyana from the New York-headquartered World Trade Center Association (WTCA) last year.
This is the first World Trade Center (WTC) to be set up in the Caribbean Community (Caricom), and this new venture by DDL will provide a range of opportunities for local businesses and organisations to enhance their networking capabilities globally. The World Trade Center Guyana office will be located in DDL's High Street, Kingston building.
There are over 320 World Trade Centers in more than 100 countries on every continent globally. The World Trade Centers Association (WTCA) stimulates trade and investment opportunities for commercial property developers, economic development agencies, and international businesses looking to connect globally and prosper locally.
The association serves as an "international ecosystem" of global connections, iconic properties, and integrated trade services under the umbrella of a prestigious brand. (G3)