The Inter-American Development Bank (IDB) has expressed interest in providing assistance to Regions Eight and Nine — hinterland regions that have recently been affected by flooding.
Asked by Opposition Member of Parliament Collin Croal what relief measures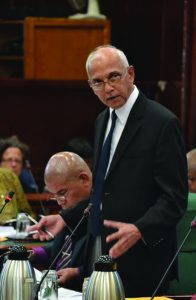 were taken to alleviate flooding, and what compensation was given to residents in these regions that had been flooded, Minister of Communities, Ronald Bulkan, told the National Assembly that Guyana and neighbouring Brazil have jointly been "looking at the dimensions of the impact of the flooding" on bordering communities in both countries.
He detailed also that the Central Government and the Civil Defence Commission (CDC) had mobilised immediately to offer relief in the form of humanitarian aid to residents who were affected during the flooding.
Government had made similar response to residents in parts of Regions Seven and Six who had been affected by flooding, he explained.
At the height of the flooding, Minister Bulkan said, Minister of State Joseph Harmon had led intervention to Region Eight, while Prime Minister Moses Nagamootoo and he (Minister Bulkan) had led interventions in Region Nine.  Some 40 residents who were affected by the flooding in Region Nine were provided food and shelter at an emergency centre set up in Lethem.
The Guyana Water Incorporated (GWI) had also mobilised efforts to provide potable water to the affected residents in the South Rupununi and other parts of Region Nine, by setting up water distribution access points at the Tabatinga and New Culvert City Pump stations. Minister Bulkan said recovery efforts have been ongoing following the receding of floodwaters in the affected regions. There is an ongoing assessment of the damages done, and this would help determine the level of assistance that the affected residents would require. Minister Bulkan also explained that Government does not offer compensation during natural disasters, but would render assistance once determination has been made of the level of damage done to houses, livestock and farmlands, after the fact. Government provided cleaning and food supplies after flood waters had receded from the affected regions, the minister explained; and to resuscitate their livelihoods, the Ministry of Agriculture has also indicated its willingness to assist farmers who have sustained damages and/or losses during the flooding.