2017 NGSA results
BY VAHNU MANIKCHAND
After years of Guyana struggling with low pass rates in Mathematics at the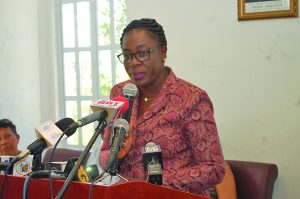 National Grade Six Assessment (NGSA) examination, new measures implemented have resulted in improved performances recorded this year.
This was revealed by Education Minister Nicolette Henry on Friday as she announced the results of this year's NGSA.
Given the continued poor performance in Mathematics; one of the core subjects, President David Granger through his Cabinet stepped in to have an emergency Mathematics intervention plan.
This move resulted in the Ministry implementing recommended measures such as training of teachers in content and methodology, developing learning communities where teachers were able to share information and experiences regarding mathematical concepts, and the recruitment of monitors and coordinators to ensure that the emergency plan was implemented in the classrooms.
Enhancement of public relations, parental involvement in the education of children and acquisition of support materials for students such as mock exams were also among the new initiatives undertaken by the Ministry.
These measures, Minister Henry noted, have been fruitful given the improved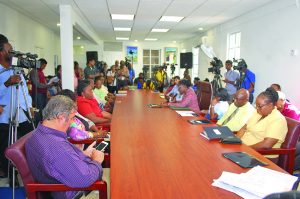 performances at Mathematics, which recorded a whopping 32 per cent increase when compared to last year in the number of students who obtained 50 per cent and more pass rate.
Over the past three years, the trend of Maths performance is 37.49 per cent pass rate in 2015, 13.85 in 2016 and 45.6 per cent this year. This year, the students were tested in this subject based on their knowledge, algorithmic thinking and reasoning.
Nevertheless, the similar increasing trend was also seen in the other subject areas.
In 2015, English recorded 45.88 per cent, 41.62 per cent the following year and in 2017 54.1 per cent pass rate of students gaining more than 50 per cent. "This is the first time in many years that we were able to get over 50 per cent passes in a subject area and that is absolutely phenomenal," the Minister stated.
For this subject, the candidates were tested in the areas of reading, comprehension and vocabulary; structure and mechanics; content, focus, vocabulary, language and organisation.
The figures for Science were 44.12 in 2015, 27.55 in 2016 and 46.3 per cent this year. In this subject, they were tested for knowledge, comprehension and application.
Meanwhile, there was a 46.5 per cent pass rate recorded in 2015 for Social Studies, 46.1 per cent in 2016 and 47.6 per cent in 2017. Knowledge, conceptual understanding and use of knowledge were the areas tested.
Going forward, Minister Henry outlined that the Ministry has very ambitious but realistic targets that would ensure the students can realise their full potential. She noted that they will be focusing on these structural interventions undertaken to work assiduously to achieve their objectives.
"We believe here in education that if we are to increase across the board in terms of quality and delivery, our objective is to ensure that irrespective of which school you would be placed or which region you're from that you are reaching your best potential," she asserted.
Zooming in on the measure implemented, the Minister underscored the importance of some such as parental involvement. She noted that the Ministry cannot achieve its goal if parents are not involved in the process and play their part in moulding the children. "So it's a collaborative process," she posited.
Meanwhile, Chief Education Officer Marcel Hutson said this year's stellar performance represents a turning around in the education sector. He noted that the Ministry will retain and build on those plans and measures that have worked so far to repeat this year's performance in the future.
On this note, he urged that support be placed behind these students. "We will hold high expectations of our students. If you don't feel our children can perform they will not perform, if you believe that there is something in them that will make them do well you will push and cause them to do well…," Hutson remarked.
Furthermore, the Chief Education Officer outlined that going forward, the issue of accountability will be brought into focus.
"Accountability of student's performance at the level of the school and classroom will be brought sharply into focus. Schools have to perform, we can't have schools that are not performing for decades and nothing is done about that. Schools must perform," he stated.
Moreover, Hutson warned the education officers at the different level not to be complacent following this high of success, which was achieved in such a short time.
"Our watch words will be sustainability and continued improvement because there're times when we could become cocky and believe that we're doing well and we lose focus… So we have to sustain what has worked and is working even after we get as close as possible to the 100 per cent mark," noted the CEO.
Cabinet in October of 2016 had mandated that a strategy be established targeting improvements in students' performance in the core subject areas. That plan, which was spearheaded by the Chief Education Officer, was subsequently approved and implemented.