The months-long anticipation came to an end on Friday afternoon when Education Minister Nicolette Henry took to the podium to announce the names of the top performers at this year's National Grade Six Assessment.
In attendance at the ceremony, hosted at the Education Ministry on Brickdam, Georgetown, were the students who worked their way to the top positions of the more than 13,000 students who sat the examinations just weeks ago, on April 12 and 13.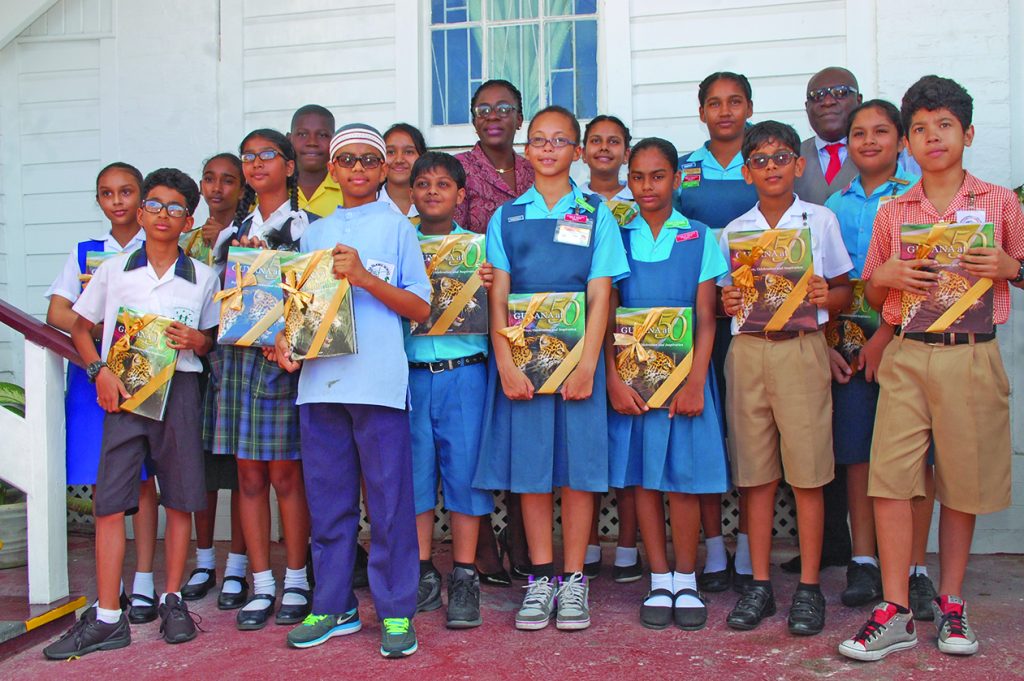 Leading the group of outstanding achievers was Saskia Twahir, a student of School of the Nations, who gained 524 marks of the possible 529, thereby earning a spot at the country's premiere secondary educational institution, Queen's College.
Twahir was closely followed by a group of five students who were placed at the second position, each scoring a total of 523 marks. These students are Clifton Bacchus of Mae's Under 12, Gabriella Roberts of Success Elementary, Xiana Chabilall of Graham's Hall Primary, and Amelia Sugrim and Antonia Dey of the Academy of Excellence.
Coming in at the seventh position, having gained the third highest marks at the exams, were Tristan Persaud, Brandon Gouveia and Emily Lalchand, all students of the Academy of Excellence; while Raj Seeram of Swami Purnananda Primary, Jerod Roberts of Marian Academy, Tristan Richards of Dharmic Rama Krishna, Muhammad Bacchus of ISA Islamic, Tia Chung of Success Elementary and Kripa Thani of Mae's Under 12 were all tied at 522 marks.
Shortly after announcement of the results on Friday, Guyana Times caught up with the students obtaining the highest marks, and allowed them to share their excitement at being named among the country's top performers.
Top student Saskia Twahir boldly relayed that she is ecstatic, given that her hard work has finally paid off. "There weren't really many difficulties; I just had to study a lot," explained the School of the Nations student, who also noted that "successful" meant giving up some of her leisure time.
The pupil highlighted that her school days generally lasted from 07:45h to 17:30hrs, and this was coupled with extra lessons on the weekends. However, Twahir said, "Our teachers told us to relax, it's just another exam." Additionally, she pointed out: "My mother was very supportive of course, and my father too."
Twahir indicated that she aspires to be a businesswoman and hopes to one day inheriting her father's establishment.
Clifton Bacchus indicated that he is satisfied with his performance. "To do very good is to study more hard. Sometimes you have to play, you have to relax; you can't study all the time, or else everything just goes away," the aspiring pilot relayed.
Gabrilla Roberts told Guyana Times she is excited to have earned a spot at Guyana's top school. She noted, "I had to put in a lot of work, especially late-night and early-morning studies."
Xiana Chabilall indicated, "I'm feeling very elated and happy." She went on to say, "I just had to study hard, give up all my gadgets, and listen to my parents and teachers. I was expecting this, because I did study real hard."
Expressing a contradictory opinion, Amelia Sugrim stated, "It was a bit hard, with plenty revision and sacrifices", while Antonia Dey said, "It was very easy."
Guyana Times spoke with a trio from the Academy of Excellency, who underlined the efforts made by the school in preparing them for the NGSA exams. Brandon Gouveia conveyed that they are worked on a number of past papers, while his colleagues Tristan Persaud and Emily Lalchand also commended the study regime.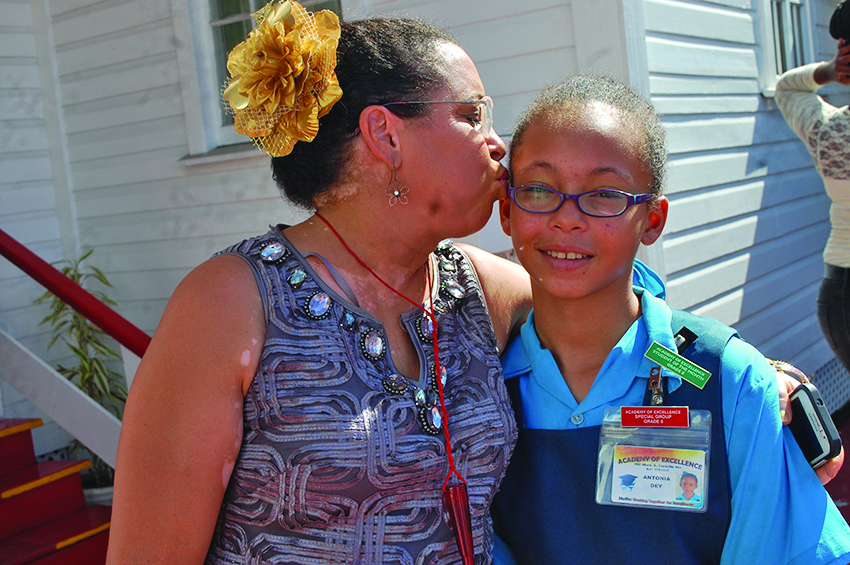 In the moment of joy and relief, the students alluded to the sacrifices they had made, with Raj Seeram noting that, "Instead of playing during school time, I usually revise; and when I come home, I study all the time." He was backed by Kirpa Thani, who also highlighted, "I had to cut out my activities, like sports." They highlighted that their significant accomplishments were expected.
Muhammed Bacchus said, "I expected this, because every second I got the chance I studied," while Tia Chung also shared her confidence, saying, "I expected this, because every second I got the chance I studied."
However, a few of the top-rankers did indicate what had posed a challenge during the examination process. "Social Studies Paper Two was (more) difficult than the others. It was tricky, but I know that I'd manage it," stated Tristan Richards. Jerod Roberts also noted, "The exam was easy, except for the Social Studies Paper 2, which was a little bit challenging." Nevertheless, they managed to apply what they had been taught over the six years.
Collectively, the students attributed their success to both their parents and teachers, with some even highlighting religion as a contributing factor in their achievements.
Of the 29 students gaining a space in the top ten ranking throughout the country, eight of the pupils belonged to public schools, while the remaining 21 emanated from private educational institutions. This total comprised students belonging to three regions, with the majority belonging to Georgetown.
Essequibo Coast
Top performer for Region Two (Pomeroon-Supenaam) National Grade Six Assessment, Ramool Baboolall, expressed his happiness at having emerged the region's best at the examinations. The aspiring engineer achieved 513 marks and gained a place at Queen's College.
During an interview with Guyana Times, the C V Nunes Primary School pupil credited his success to God, his parents, and his teacher. He said he was shocked when he first heard the announcement via the media, but added he knew he would have done well.
Linden
This year's top NGSA performer from Region 10 (Upper Demerara-Berbice) is very elated to have achieved this feat. He is Miguel Emerson of the Watooka Day Primary School in Linden, who attained 517 marks.
Emerson, an aspiring doctor, has secured a place at Queen's College. Emerson explained that he had "studied very hard, put in all the work that was needed, and prayed." A resident of Moraballi Street in Retrieve, Mackenzie, Emerson attributes his success to very strong family support.