A search exercise conducted by ranks of the Guyana Police Force and the Guyana Prison Service (GPS) resulted in the discovery of a number of contraband items at the New Amsterdam Prison.
It was reported that the exercise was carried out in the wee hours of Thursday morning by prison officials, with the assistance of ranks from the Guyana Defence Force, and other ranks of Police Regional Division No 6.
The contraband items found during the joint operation include a quantity of fermented wine, 10 cell phones, a Digicel SIM card, six pairs of scissors, 23 lighters, 24 razor blades, an improvised grater, 15 improvised weapons, three metal spoons, a fork, a knife, GY$4660 in cash, 47 Ziplock bags containing a number of marijuana leaves, seeds and stems weighing 87 grams.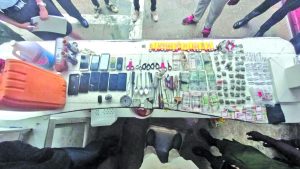 They also found 30 Pall Mall cigarettes, 18 Bik blades, five packs of bamboo, a small quantity of nicotine gum, two mirrors, and an AirPods case.
The items were taken to Central Police Station where they were lodged, to be disposed of.
Only a few days ago, a search exercise conducted by ranks of the Guyana Police Force and the Guyana Prison Service (GPS) resulted in the discovery of a number of prohibited items at the Mazaruni Prison, Mazaruni River, Region Seven (Cuyuni-Mazaruni).
During the search, three cell phones, 42 improvised weapons, eight chargers, fifteen lighters, one knife, three pairs of scissors, and a number of suspected cannabis leaves, seeds, and stems were discovered.
The narcotics were weighed and amounted to 116 grams. The prohibited items were lodged at the Bartica Police Station. (G9)