…says contract is a standard one
United Kingdom's BP International Limited, which won a contract last month to market Guyana's share of petroleum from the two floating production storage and offloading (FPSO) vessels producing oil offshore, is not receiving a marketing commission for this service.
This was reiterated by Vice President Bharrat Jagdeo, during an interview with the media on the sidelines of a recent event. A marketing commission is a percentage of the revenues generated from the sale of crude, which would go to the third party acting as Guyana's agent. But in this case, Jagdeo assured that there is no commission for BP to market Guyana's crude.
"They had a bid and BP came out as number one. There's zero marketing commission. It's a standard contract, to sell our oil for a year," Jagdeo explained, when asked about calls for the contract to be released.
"Most of the world doesn't have what we have. You go to jail if you don't publish the revenue flow from the oil and gas companies within three months. You ask in any EITI country, if they have that," the Vice President further explained.
When it was announced last month that BP had won the contract, the Natural Resources Ministry had said that 14 companies responded to its Request for Bids that was published on September 16 ahead of the October 11 submission deadline.
Of the 14 bids submitted to the National Procurement and Tender Administration Board (NPTAB), an Evaluation Committee set up by the Board recommended in its report that BP International be awarded the marketing contract. That report was cleared by NPTAB and subsequently received Cabinet's "no objection". The duration of this contract with BP will be for 12 months.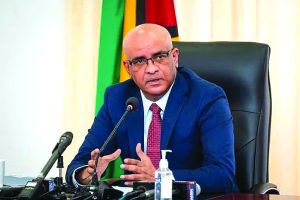 The services required of BP include providing support and guidance to the Government of Guyana in all operating and back-office responsibilities of managing the crude sales and each individual lift whilst facilitating timely and cost-effective crude operations; supporting the Government in the continued introduction of the grade to multiply geographies and refinery systems, and providing benchmark and performance comparisons of prices paid for Guyana's crude; and working closely with the Government to understand the behaviour and yields of the Liza blend and how these can affect pricing differentials.
"The Guyana Government will continue to employ transparent and international best practices in the management of the nation's petroleum resources so as to attain maximum returns and advance the livelihoods of all citizens," the Natural Resources Ministry had said.
Previously, Saudi Aramco was contracted in September 2021 to market Guyana's share of profit oil from ExxonMobil-led operations in the Stabroek Block over the past year. The State-owned Saudi Arabian company, whose contract has now ended, was the lowest responsive bidder of the shortlisted companies. Prior to Saudi Aramco, Guyana's crude lift share was marketed by Shell Western and Hess International.
Guyana, with US oil giant ExxonMobil as the operator, began producing oil on December 20, 2019, in the Stabroek Block. Guyana's oil revenues are being held in the Natural Resource Fund (NRF) at the New York Federal Reserve Bank, where it is earning interest.
The oil rich Stabroek Block, which is producing the oil, is 6.6 million acres (26,800 square kilometres). Exxon, through its local subsidiary Esso Exploration and Production Guyana Limited (EEPGL), is the operator and holds 45 per cent interest in the Block. Hess Guyana Exploration Ltd holds 30 per cent interest, and CNOOC Petroleum Guyana Limited, a wholly-owned subsidiary of CNOOC Limited, holds the remaining 25 per cent interest.
With the Liza Destiny and Liza Unity FPSO vessels operating offshore, Guyana is entitled to 13 of 94 lifts from the oil-rich Stabroek Block this year. ExxonMobil has also said it anticipates at least six projects offshore Guyana will be online by 2027.