Scholarships from the Guyana Online Academy of Learning (GOAL) will now be offered to high school graduates from Children's homes across the country to pursue their studies.
During a Christmas ceremony held for young people from multiple children's homes, President Dr Irfaan Ali said that in order to ensure the children are given opportunities, he has asked the Education Ministry to place special emphasis on their education, including at the tertiary level.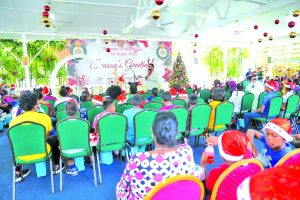 "So, all the children from the homes who will finish CXC will get a scholarship under the GOAL programme to pursue your studies," he stated.
The Head of State also implored the youngsters to take advantage of the opportunities given to them as they are part of the development of the country. He also encouraged that they continue to be good ambassadors and work together, while lauding the caregivers for their services.
Also highlighted during the celebration, were the works of his Office, the Office of the First Lady and the Ministry of Human Services and Social Security (MHSSS) over the past year.
"In the last year, we have been able to support many of the homes, many of the children. We have been able to get more corporate support to make your life easier."
He also assured the children that in the coming year, the Government will be working on many new programmes to further enhance and enrich their lives, giving them more opportunities at an individual level, while strengthening support through new programmes at the different homes.
One of which will be the nurturing of talented youngsters. "We also want to ensure that children in the homes who have special talents that we can identify those children and we can also give them opportunities… In many of the homes, you have children who are gifted; some gifted in sport, some gifted in different talents, artistic talents. So we also want to work on supporting children in the homes who have special talents," he expressed.
The President said different teams will be dispatched to other homes across the regions for similar exercises.