The Guyana Chess Federation (GCF), in collaboration with title sponsors Trophy Stall, is set to host the first-ever Fédération Internationale des Échecs (FIDE) Rapid one-day tournament come Saturday.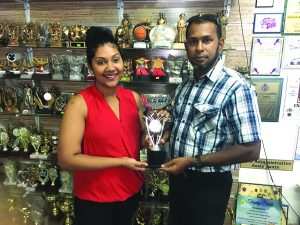 This event will be held at the National Resource Centre, Woolford Avenue, Thomas Lands, and will consist of seven rounds with the opener beginning at 13:00h.
Registration begins at 12:00h with a registration fee of $1000 for seniors and $500 for juniors being charged.
Trophy Stall, which has supported the sport for a number of years, has once again committed to the efforts of the GCF, providing sponsorship, including trophies and prizes, among other things.
A number of big names in the sport are expected to be on show, including the brother/sister pair of Saeed and Sheriffa Ali, as well as Wendell Meusa, Maria Thomas, Robert Nato, Taffin Khan, Anthony Drayton, Jessica and Jennifer Clementson to name a few.
For more information players can contact Irshad Mohamed on 664-1650 or Ronuel Greenidge on 657-7543.