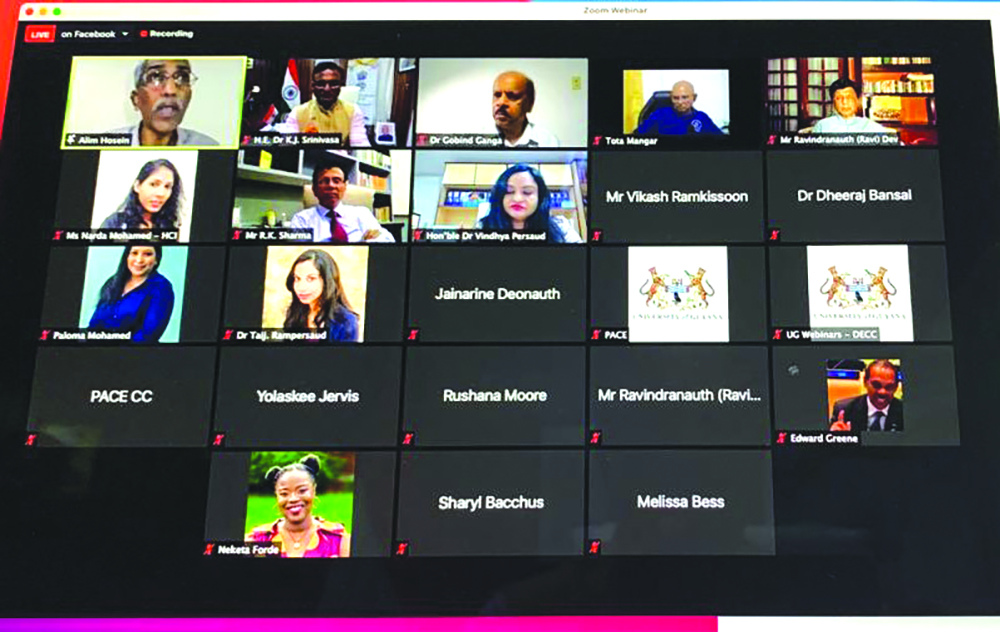 Indian High Commissioner to Guyana, His Excellency Dr K J Srinivasa has signalled his country's interest in collaborating with the Government of Guyana in several key areas including electoral reform.
India will be celebrating 75 years as an independent nation on August 15, 2022, and as a form of celebration, the Indian Government will be organising a number of events across the world.
However, as Guyana prepares to observe Arrival Day on Wednesday, the High Commission in association with the University of Guyana recently organised a virtual symposium on India-Guyana relations from 1838 to 2021.
It was during that initiative, the diplomat related that apart from technical assistance in electoral reform, India can also lend a helping hand with Electronic Medical Patient Record (EMR) System, the deputation of sugar and legal experts, technical and training support in the semi-precious jewellery industry, sustainable aquaculture management, media and air force training.
There are also plans to upgrade the Centre of Excellence in Information Technology to a Caricom centre.
Nevertheless, during the symposium, the Indian High Commissioner recalled some of the initiatives in which his Government has collaborated with Guyana. These include the construction of a cricket stadium at Providence, installation of traffic lights in Georgetown, supplying heavy-duty irrigation and drainage pumps, infrastructure/road construction from Diamond to Ogle, transport/ferry for the North-Western part of Guyana, healthcare/upgrade of hospitals in Bartica, Suddie and West Demerara, supply and installation of heavy-duty irrigation/drainage pumps, supply of solar energy/household solar panels for 30,000 houses in hinterland/rural communities.
Meanwhile, during one of his weekly programmes "Issues in the News", Attorney General and Legal Affairs Minister Anil Nandlall had posited that the Administration has committed to reviewing the Representation of the People Act (RPA) and other key pieces of legislation with the aim of reforming them in order to cover all the loopholes that have been exploited over the five months after the March 2 General and Region Elections in Guyana
He had disclosed that the Canadian Government laid out a multiplicity of opportunities in the legal sector for Guyana to take advantage of and during a meeting with the former High Commissioner, Lilian Chatterjee, he raised the need for experts to assist in the electoral reform process.
Some of the key areas that Government is looking to reform include: ensuring Statements of Poll (SoPs) are published by the respective political parties on a website and made public within hours after receiving them; ensuring there are oversight mechanisms to scrutinise the work of the Returning Officers (ROs) in order to guard against the declaration of false results; and also to scrutinise the employment procedures and practices at the Guyana Elections Commission (GECOM), so as to ensure the best quality candidates are recruited to work during elections, as well as to have fixed qualifications, character references and testimonials for high ranking staff at the electoral body.
Moreover, Nandlall highlighted that they are looking to implement a regime of offences that would carry heavy penalties for electoral wrongdoings so that persons would be deterred from taking such actions during the elections.
The United Nations Development Programme had informed Guyana of the extensive technical support the UNDP can offer on a myriad of various governance issues, including, but not limited to, strengthening of democracy, justice reform, and electoral reform.