– 2 Heads of State to sign bilateral agreement
Guyana and Brazil are expected to hold detailed discussions on infrastructure and energy, among other areas of bilateral interest during a one-day state visit of President Jair Bolsonaro to Guyana today.
This visit by President Bolsonaro comes just over three months after he was forced to cancel his visit to Georgetown following the death of his mother on January 21. At the time, planned talks on advancing infrastructure and an energy corridor between Guyana and Brazil had to be put off.
However, during today's visit, President Dr Irfaan Ali and the visiting Head of State will discuss a range of issues of bilateral interest, as well as developments at the regional and global levels.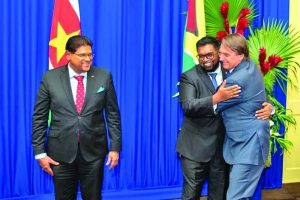 The two countries share a broad bilateral agenda, covering issues such as infrastructure development, energy cooperation, trade and investment, health, agriculture, and defence and security cooperation, and these will be among the issues to be addressed by the two leaders.
In addition, Presidents Ali and Bolsonaro are expected to sign an agreement at the Arthur Chung Conference Centre (ACCC) after which, they are slated to make remarks to the media and other stakeholders.
Guyana and Brazil established diplomatic relations in August of 1968 and enjoy strong ties of friendship and cooperation.
Back in January, Presidents Ali and Bolsonaro had travelled to Suriname to have trilateral discussions with President Chandrikapersad Santohki in Paramaribo.
The three neighbouring leaders met for a working lunch on January 20 during which they discussed enhancing cooperation in a number of areas, including infrastructure, trade and energy.
President Ali had returned to Guyana later that evening to prepare for the official one-day visit of his Brazilian counterpart the following morning to have further bilateral talks.
The agenda, at the time, for that engagement between the two South American leaders had included improving economic relations, energy and food security, telecommunications, agriculture, infrastructure integration and the development of a deep-water harbour in Guyana.
It was noted that since Guyana offers the shortest and quickest access to the Atlantic for significant parts of northern Brazil, a road connection linked to the deep-water port could also serve the interest of both countries.
Day's prior to the Suriname visit, the two Heads of State spoke via a teleconference about enhancing the partial scope agreement between Guyana and Brazil with the hope of bolstering trade. They also discussed the agenda for Friday high-level visit by President Bolsonaro.
During that conversation, President Ali indicated to his Brazilian counterpart that Guyana wants to have a very strong strategic partnership with the Portuguese-speaking nation.
"We have a number of important issues and opportunities for both Guyana and Brazil that I wanted to highlight even before our meeting, so our technical teams can start some work," President Ali said in a missive from his Press and Publicity Unit.
The Head of State had pointed out that due to their geographical locations, Guyana and Brazil must make strong statements in linking their territories.
He noted that in addition to oil and gas, expanding opportunities in the other non-oil natural resources sector such as bauxite will create an opportunity for a direct link to northern Brazil and the Atlantic that can "create an excellent platform for us to develop an integrated project".
As it relates to trade, currently, there is an existing partial scope agreement that aims to foster bilateral trade flows by the exchange of tariff preferences between the two countries, cooperation on trade matters and increased participation of the Private Sector.
This, President Ali said, is currently under negotiation to be expanded since Guyana wants to increase its quota, especially as it relates to rice being exported to Brazil.
President Bolsonaro, via an interpreter, said that the agenda for discussion looks "very promising" and that he will ensure that technical staff from the relevant Ministries in Brazil travel for the State visit.
Meanwhile, it has been touted that the Corentyne River Bridge project, linking Guyana and Suriname, will open up direct access to north-east Brazil, where there is said to be markets valuing millions of dollars.
Only Wednesday, a contract was signed for feasibility studies to be conducted on the bridge project.