– as PSC, US Bilateral Chamber sign pact to promote trade and investment
A Guyanese company will be partnering with a United States industrial processing firm to establish a barium manufacturing facility here in Guyana to supply the local oil and gas industry.
Ithaca Energy Partners Inc (IEP), an indigenous Guyanese Company and member of the Georgetown Chamber of Commerce and Industry (GCCI), on Tuesday, signed a Memorandum of Understanding (MoU) with Texas-based Excalibar Minerals LLC.
The signing, which took place at the International Offshore Technology Conference (OTC) currently being hosted in Houston, Texas, will see Excalibur Minerals, a wholly-owned subsidiary of Newpark Resources, coming to Guyana.
According to a statement from GCCI, the two firms will also establish a joint venture which will see over US$20 million being invested into the establishment of a barium manufacturing facility here.
Barium is often used for spark-plug electrodes and in vacuum tubes as a drying and oxygen-removing agent. As well as fluorescent lamps: impure barium sulfide phosphorescence after exposure to light. Its compounds are used by oil and gas industries to make drilling mud.
In fact, it is also expected that the local facility will supply Guyana's oil and gas industry with Barite, which is an industrial mineral commodity that is used primarily in the drilling of oil and gas wells.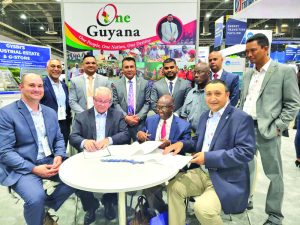 Barite increases the hydrostatic pressure of the drilling mud allowing it to compensate for high-pressure zones experienced during drilling. The softness of the mineral also prevents it from damaging drilling tools during drilling and enables it to serve as a lubricant.
Chief Executive Officer of IEP, Linden Edmondson, explained that the joint venture would not only transfer barium manufacturing technology to Guyana but also create employment for over 50 local persons and provide training for several Guyanese.
Excalibar Minerals LLC is the largest manufacturer/miller of Ground Barium Sulfate and Calcium Carbonate Mineral Products in North America.
This is just one of several agreements signed between Guyanese companies and overseas players at the recently concluded Offshore Technology Conference in Houston, which was held from May 1 to 5.
Only on Wednesday, the Private Sector Commission (PSC) and the Bilateral Chamber of Commerce have pledged to leverage their combined resources to strengthen economic relations between Guyana and the US.
The two parties signed a Memorandum of Understanding which promotes trade and investment across sectors, including infrastructure, healthcare, industry and education. Signing on behalf of the PSC was it Chairman, Paul Cheong, while CEO of the Bilateral Chamber, Aida Araissi.
The simple signing ceremony was witnessed by Natural Resources Minister, Vickram Bharrat; CEO OF GO-Invest Guyana, Dr Peter Ramsaroop; US Ambassador to Guyana, Sarah-Ann Lynch; ExxonMobil Guyana President Alistair Routledge, and Vice President responsible for Global Frontier Exploration at ExxonMobil Upstream Business Development in Houston, Dr. John Ardill. Additional event attendees included executives from leading energy, real estate, and technology companies.
According to a statement from the PSC, this MoU is the fruit of the Bilateral Chamber's first Trade Mission to Guyana in March 2022. The Chamber and the PSC will work together in the coming months to organize more trade missions that bring together businesses from the U.S. and Guyana.
Following the signing on Wednesday, the PSC Chairman said, "today is a historic day. We will work on building a partnership that members of both sides will be proud of. This is just the beginning".
Meanwhile, Araissi added, "we are proud to be ranked as a top producing contractor for the US Trade and Development Agency (USTDA). Our Bilateral Chamber and USTDA programs represent over US$100 billion dollars of exported U.S. goods, services, and advanced technologies and we're looking forward to bringing that kind of expertise to Guyana, to grow the local content."
The Bilateral Chamber, located in Houston, Texas, has an expansive network of more than 36,000 subscribers, representing small to large enterprises. The Chamber is a trusted partner to the U.S. Trade and Development Agency, the U.S. Departments of Commerce, State, and Energy, as well as trade development agencies in key markets around the globe.
Meanwhile, these two agreements followed the signing of another MoU on Monday to establish a mechanism between the Government of Guyana and the Houston Airport System (HAS) to strengthen collaboration and promote the expansion of a safe, modern, and efficient airport system.
During brief remarks, both Minister Bharrat and Ambassador Lynch applauded this partnership which paves the way for the exchange of expertise in the areas of operation, economic development, and advancements of both airports.