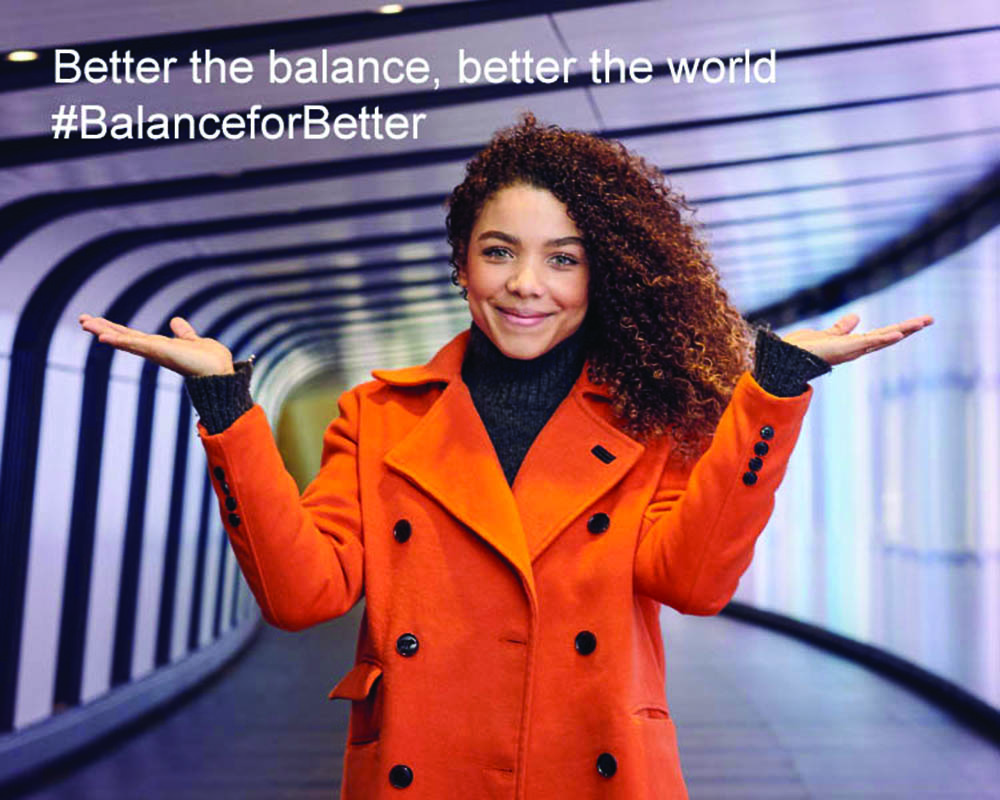 International Women's Day is a time to reflect on progress made, to call for change and to celebrate acts of courage and determination by ordinary women who have played an extraordinary role in the history of their countries and communities.
The 2019 theme "Think equal, build smart, innovate for change" focuses on innovative ways in which we can advance gender equality and the empowerment of women, particularly in the areas of social protection systems, access to public services and sustainable infrastructure.
The achievement of the ambitious Sustainable Development Goals (SDGs) requires transformative shifts, integrated approaches and new solutions, particularly when it comes to advancing gender equality and the empowerment of all women and girls.
Innovation and technology provide unprecedented opportunities, yet trends indicate a growing gender digital divide and women are under-represented in the field of science, technology, engineering, mathematics and design. It prevents them from developing and influencing gender-responsive innovations to achieve transformative gains for society. From mobile banking to artificial intelligence and the internet of things, it is vital that women's ideas and experiences equally influence the design and implementation of the innovations that shape our future societies.
Echoing the priority theme of the sixty-third session of the Commission on the Status of Women (CSW63), in 2019 we look to industry leaders, game-changing start-ups, social entrepreneurs, gender equality activists, and women innovators to examine the ways in which innovation can remove barriers and accelerate progress for gender equality, encourage investment in gender-responsive social systems, and build services and infrastructure that meet the needs of women and girls.
On 8 March 2019, the world will celebrate a future in which innovation and technology creates unprecedented opportunities for women and girls to play an active role in building more inclusive systems, efficient services and sustainable infrastructure to accelerate the achievement of the SDGs and gender equality.
International Women's Day is also an opportunity to consider how to accelerate the 2030 Agenda, building momentum for the effective implementation of the Sustainable Development Goals, especially goal number 5: Achieve gender equality and empower all women and girls; and number 4: Ensure inclusive and quality education for all and promote lifelong learning.
International Women's Day 2019 campaign theme #BalanceforBetter is aimed as building a gender-balanced world. From grassroots activism to worldwide action, the world is entering an exciting period of history where the world expects balance. Balance drives a better working world. Let's all help create a #BalanceforBetter.
The 2019 #BalanceforBetter campaign runs all year long. It does not end on International Women's Day. The campaign theme provides a unified direction to guide and galvanize continuous collective action, with #BalanceforBetter activity reinforced and amplified all year. Balance is not a women's issue, it's a business issue. The race is on for the gender-balanced boardroom, a gender-balanced government, gender-balanced media coverage, a gender-balance of employees, more gender-balance in wealth, gender-balanced sports coverage. Gender balance is essential for economies and communities to thrive.
So put your hands out and STRIKE THE #BalanceforBetter POSE and make International Women's Day YOUR day – and do what you can to truly make a positive difference for women everywhere.
Chronology
1909   The first National Woman's Day was observed in the United States on 28 February. The Socialist Party of America designated this day in honour of the 1908 garment workers' strike in New York, where women protested against working conditions.
1910   The Socialist International, meeting in Copenhagen, established a Women's Day, international in character, to honour the movement for women's rights and to build support for achieving universal suffrage for women. The proposal was greeted with unanimous approval by the conference of over 100 women from 17 countries, which included the first three women elected to the Finnish Parliament. No fixed date was selected for the observance.
1911   As a result of the Copenhagen initiative, International Women's Day was marked for the first time (19 March) in Austria, Denmark, Germany and Switzerland, where more than one million women and men attended rallies. In addition to the right to vote and to hold public office, they demanded women's rights to work, to vocational training and to an end to discrimination on the job.
1913-1914   International Women's Day also became a mechanism for protesting World War I. As part of the peace movement, Russian women observed their first International Women's Day on the last Sunday in February. Elsewhere in Europe, on or around 8 March of the following year, women held rallies either to protest the war or to express solidarity with other activists.
1917   Against the backdrop of the war, women in Russia again chose to protest and strike for "Bread and Peace" on the last Sunday in February (which fell on 8 March on the Gregorian calendar). Four days later, the Czar abdicated and the provisional Government granted women the right to vote.
1975 During International Women's Year, the United Nations began celebrating International Women's Day on 8 March.
1995 The Beijing Declaration and Platform for Action, a historic roadmap signed by 189 governments, focused on 12 critical areas of concern, and envisioned a world where each woman and girl can exercise her choices, such as participating in politics, getting an education, having an income, and living in societies free from violence and discrimination.
2014 The 58th session of the Commission on the Status of Women (CSW58) – the annual gathering of States to address critical issues related to gender equality and women's rights — focused on "Challenges and achievements in the implementation of the Millennium Development Goals for women and girls". UN entities and accredited NGOs from around the world took stock of progress and remaining challenges towards meeting the eight Millennium Development Goals (MDGs). The MDGs have played an important role in galvanizing attention on and resources for gender equality and women's empowerment.